Italian Apple and Cinammon cake
Italian Apple and Cinammon cake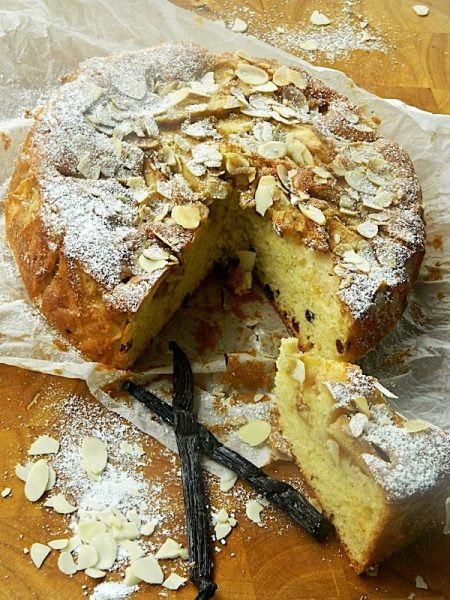 INGREDIENTS:
3 eggs, separated
200 gr (1 cup) of brown sugar
130 gr (1/2 cup) of Greek yogurt
75 ml (1/3 cup)of grape seed oil (or light olive oil, non extra-virgin)
1 teaspoon of vanilla paste (or extract)
220 gr (2 cups) of sifted self-raising flour
50 gr (1/3 cup)of Almond meal
3 table spoons of sultanas soaked for 30 minutes (or 1 minute in the microwave) in Marsala wine (or Rum)
1 table-spoon of cinnamon powder
1 grated apple
zest of 1 lemon
2 apples cut in quarters, 2 table-spoons of butter, 1 table-spoon of castor sugar
How To
1. In a frying pan, caramelize the apple quarters with sugar, lemon zest and butter for 10 minutes.
2. Whisk the sugar with the yolks until pale and creamy. Pour in the yogurt, oil, the grated apple and vanilla and mix well then add your flours, cinnamon and the pre-soaked sultanas with two table spoons of the soaking liquid.
3. Whisk 3 egg whites until soft peaks form and gently fold them into the cake batter.
4. Pour cake mix into a cake tin lined with baking paper and top with the caramelized apples and almond flakes.
5. Bake at 170 Celsius (350 Farenheit) for around 35/40 minutes
As tough as it is, allow to cool before you cut yourself a large slice…