Cooking the Perfect Pasta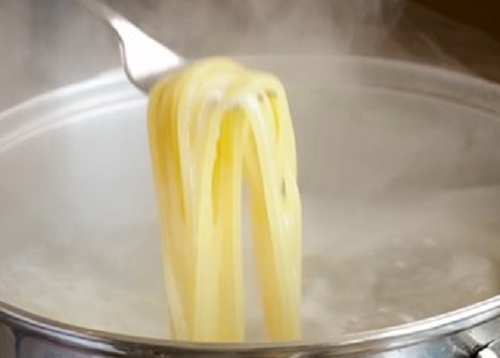 Pasta is an essential staple when it comes to Italian food and cooking. There are a large variety of different kinds of entrees and pasta meals you can prepare which include spaghetti, manicotti, lasagna and a basic penne pasta. It doesn't matter which type of pasta you make, there are still some basic steps to follow to insure that your pasta is perfect every time.
We have some great pasta recipes on our site. So give it a try and soon you will be preparing that perfect pasta dish. Enjoy!
  Weigh your pasta.  Over the years, I got tired of making way too much pasta or trying to eyeball how much to cook.  Now, I just weigh my pasta.  It's accurate and easy.  Get yourself a nice little scale – you will use it for a hundred tasks in the kitchen – and weigh your pasta.  Determine how much pasta you eat for a main dish or a side dish.  We usually eat 2 ounces each as a main dish.  It's so much better to just weigh it and know exactly how much you are cooking. to weigh spaghetti, I use a corn-on-the-cob holder

Salt your water.  In Italy, they salt the water for pasta heavily – they say it should taste like the ocean.  Use kosher salt or even better, sea salt.  The pasta will absorb this seasoning in a way that is not the same as adding salt after it's cooked. And it's not necessary to add any oil into the water.

 Don't pour out your pasta water.  This is the way most Americans cook their pasta – they carry the pot over to the sink and dump it all out in a colander and let all that great pasta water go down the drain.  The pasta water actually contains a lot of starch and it will help the pasta cling to the sauce.  Do not rinse your pasta! Pasta water also helps if your pasta is sticking together – a couple of tablespoons of pasta water and the pasta magically separates itself.  The only time I drain my pasta is when I don't want the any water to dilute a sauce like a thick bolognese sauce. Otherwise, most sauces for pasta I make on the stove right beside the pasta pot and use the pasta water as part of the sauce.

  Don't oversauce your pasta.  This is a pet peeve of mine when I go out to eat and order pasta – a lot of places put way too much sauce on the pasta.  The sauce should just coat the pasta, not drown it.

  Let the sauce and pasta cook together for a couple of minutes. When your pasta has almost finished cooking, toss it in the skillet first with your sauce, let it cook for a minute and allow the sauce to come together with the pasta and then transfer it to the serving dish.  I like to set my skillet or pot that has my sauce right up against the pasta pot on the stove. Then I just take tongs or a handle strainer and lift the pasta out and place it right into my skillet – I like the pasta water that is still clinging to the pasta to go right into the pot.  The pasta water can thin out a too thick sauce.  Your pasta should be thoroughly and completely coated with the sauce before you serve it – don't serve a pile of pasta with a ladeful of sauce just sitting on top.
These are the most important rules of cooking pasta that I think you should keep in mind.  [wpdiscuz-feedback id="pjvdq3sqa2″ question="Please leave a feedback on this" opened="1″]What are your pasta rules?[/wpdiscuz-feedback]
We have some great pasta recipes on our site. So give it a try and soon you will be preparing that perfect pasta dish. Enjoy!
Dried Pasta Cooking Times
Acini de pepe – 5 to 6 minutes

Cappellini
Egg Noodles – 8 to 10 minutes

Elbow Macaroni – 8 to 10 minutes

Farfalle – 13 to 15 minutes

Fettuccine – 11 to 13 minutes

Fusilli – 11 to 13

Lasagna – 12 to 15 minutes

Linguini – 9 to 13 minutes

Mafalda – 8 to 10 minutes

Manicotti – 10 to 12 minutes

Mostaccioli – 12 to 14 minutes
Penne – 9 to 13 minutes

Radiatore – 9 to 11 minutes

Rigatoni – 12 to 15 minutes

Rosamarina – 8 to 10 minutes

Rotelle – 10 to 12

Rotini – 8 to 10 minutes

Shells (Jumbo) – 12 to 15 minutes

Shells (Medium or Small) – 9 to 11 minutes

Spaghetti – 8 to 10 minutes

Vermicelli – 5 to 7 minutes

Ziti – 14 to 15 minutes
Fresh Pasta Cooking Time
Capellini – 1 to 2 minutes

Farfalla – 2 to 3 minutes
Fettuccine – 1 to 2 minutes

Linguine – 1 to 2 minutes

Ravioli – 6 to 8 minutes

Tortellini – 8 to 10 minutes