Kale, Apple and Walnut Salad – Italian Cook Laura Vitale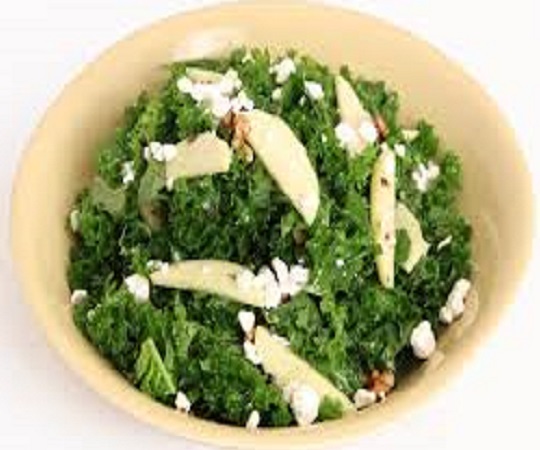 We hope you enjoy Laura creating this salad including Apples, Walnuts and Kale. Great for our health and very tasty to boot.
Kale is very high in beta carotene, vitamin K, and vitamin C, and is rich incalcium. Kale is a source of two carotenoids, lutein and zeaxanthin. Kale, as with broccoli and other brassicas, contains sulforaphane (particularly when chopped or minced), a chemical with potent anti-cancer properties.
Boiling decreases the level of sulforaphane; however, steaming,microwaving, or stir frying does not result in significant loss. Along with other brassica vegetables, kale is also a source of indole-3-carbinol, a chemical which boosts DNA repair in cells and appears to block the growth of cancer cells. Kale has been found to contain a group of resins known as bile acid sequestrants, which have been shown to lower cholesterol and decrease absorption of dietary fat. Steaming significantly increases these bile acid binding properties.
Walnuts are a nutrient-dense food: 100 grams of walnuts contain 15.2 grams of protein, 65.2 grams of fat, and 6.7 grams of dietary fiber. The protein in walnuts provides many essential amino acids.
According to the United States Department of Agriculture, a typical apple serving weighs 242 grams and contains 126 calories with significant dietary fiber and modest vitamin C content
From Wikipedia