Italian Wedding Soup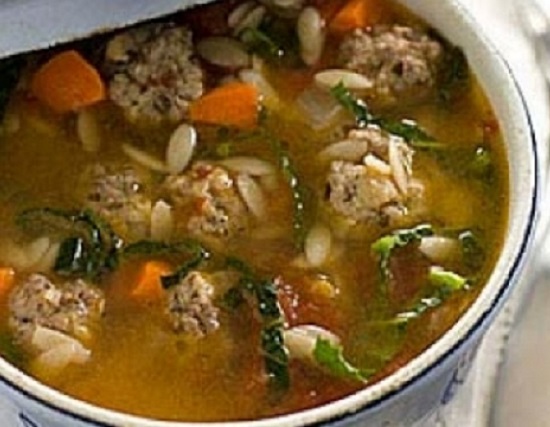 This Italian Wedding Soup is perfect any day of the week. Serve it by itself for dinner or as a first course before your main dish. Either way don't forget to sprinkle the fresh grated Parmesan cheese all over the top before serving.
Soup
INGREDIENTS
 Serves 8 to 10 people.
6 cups of chicken stock

2 chicken breasts

2 bunches of long green onion, chopped

3 carrots, chopped

3 stalks of celery, chopped

2 cloves of garlic, chopped

1/4 cup of olive oil

2 Tbls of butter

1/4 tsp of salt

1/2 tsp of fresh ground black pepper

1/2 pound of fresh spinach, chopped

1/4 cup of fresh parsley

1/2 cup of fresh grated Parmesan cheese
MeatballsINGREDIENTS

1 pound of ground pork

1 bunch of long green onions, finely chopped

1/2 cup of bread crumbs

1/2 cup of Parmesan cheese

1/4 cup of parsley, chopped

1/4 tsp of salt

1/4 tsp of pepper

PREPARATION Meatballs


In a large bowl combine all the ingredients together.

Shape the meat into small 1 inch balls.

PREPARATION Soup


In a large pot sauté the onions, carrots, celery and garlic in the olive oil and butter for 2 to 3 minutes.

Season with salt and pepper.

Add the broth and bring to a boil.

Reduce and simmer.

Add the chicken breasts and poach for about 10 to 15 minutes.

Remove the chicken , shred and return to the broth.

Add the spinach and parsley and simmer for around a 30 minutes.

Add the meatballs and cook for 15 to 20 more minutes.

Serve with Parmesan cheese.