Italian Fillet Mignon Steak Sandwich
Italian Fillet Mignon Steak Sandwich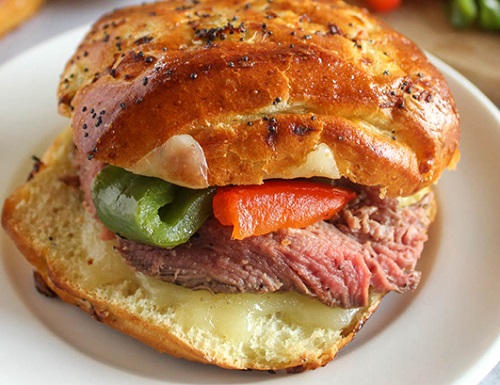 INGREDIENTS
2 to 6 fillet mignon around 3/4 of an inch thick depending how many sandwiches you want to make.

1 can of diced plum tomatoes

1 green bell pepper sliced

1 red bell pepper sliced

1 onion sliced

8 baby portobello mushrooms sliced

4 or 5 cloves of garlic crushed

1 tsp of dried oregano

1 tsp of dried basil

1 tsp of fresh ground black pepper

salt to taste

1/4 cup of Parmesan cheese

3 0r 4 Tbls butter

2 to 6 Italian dinner rolls
PREPARATION
Sprinkle steaks with salt, pepper, oregano and basil.

Broil steaks however you like them, medium, rare or well done.

Saute the vegetables in oil until soft and a little browned then add the tomatoes for a few minutes

Slice dinner rolls in half and spread with butter and garlic.

Sprinkle rolls with a little oregano and Parmesan cheese.

Broil until golden brown. Watch the broiler and don't walk away.

Place the steaks on the garlic bread and pile on the peppers and tomato mixture and your ready to mangia.