Almond and lemon biscotti (tozzetti)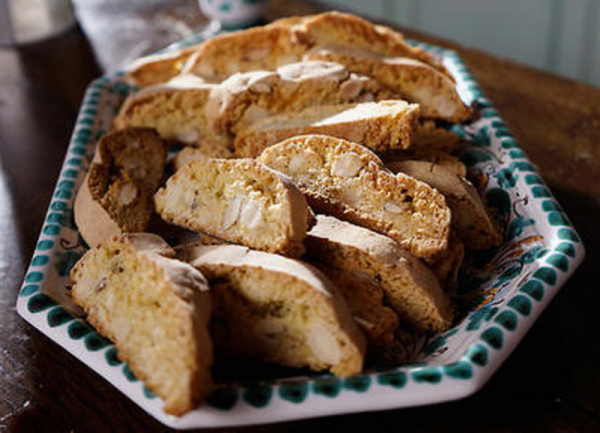 These are Italy's best loved cookies. It's always nice to have a stash on hand for a rainy day. You could also try your own flavour combinations, such as chocolate and hazelnut, or pistachio and orange.
Ingredients
2 whole eggs

3 egg yolks

350 g caster sugar

1 tsp vanilla paste or extract

450 g self-raising flour, sifted

1 tbsp melted butter

pinch of salt flakes

finely grated zest of 2 lemons

200 g blanched almonds
Cook's notes
Oven temperatures are for conventional; if using fan-forced (convection), reduce the temperature by 20˚C. | We use Australian tablespoons and cups: 1 teaspoon equals 5 ml; 1 tablespoon equals 20 ml; 1 cup equals 250 ml. | All herbs are fresh (unless specified) and cups are lightly packed. | All vegetables are medium size and peeled, unless specified. | All eggs are 55-60 g, unless specified.
Instructions
Cooling time 35 minutes
Preheat your oven to 190°C (170°C fan-forced) and line a large baking tray with baking paper.
Place the eggs, egg yolks, sugar and vanilla in a mixing bowl and beat until pale and creamy. Add the flour, butter, salt and lemon zest and then the nuts. Shape the dough with floured hands to form two logs. Place the logs on the prepared tray, spaced well apart to allow for spreading, and bake for 25–30 minutes or until well risen and pale golden.
Remove from the oven and cool at room temperature for 3–5 minutes, then cut them on an angle into 1–1.5 cm thick slices. Make sure you use a very sharp serrated knife to ensure neat slices. You will notice than the inside of the biscuits are still a little wet – this is fine.
Arrange the slices on the lined tray and return to the oven for 5 minutes. Turn them over and toast for a further 5 minutes or until crisp and golden. Cool at room temperature, then serve with gelato, coffee or your favourite dessert wine. Any leftover tozzetti will keep in an airtight container for up to 2 weeks.
Note
• For a gluttonous twist on this classic, replace the almonds with hazelnuts and the lemon zest with chocolate chips.
This recipe is from Made in Italy with Silvia Colloca. To find out more about the show, check out the episode guide, or scroll through Silvia's recipes.