Apple Cake Recipe with Salted Caramel Sauce
Apple Cake Recipe with Salted Caramel Sauce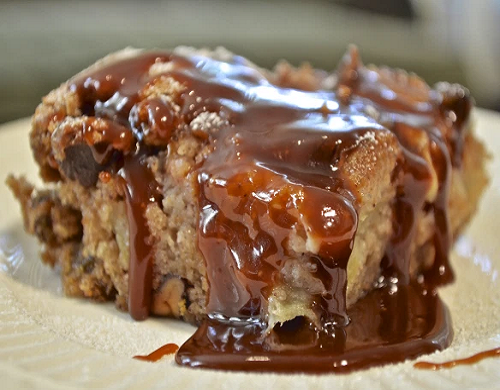 Ingredients
Apple Cake
1-3/4 c sugar

3/4 c oil

3 eggs

1/2 tsp salt

2 cup AP flour

1 tsp baking soda

1 tsp cinnamon

1 tsp vanilla

4 or 5 Cortland apples, peeled, cored, sliced thin

1 cup chopped black walnuts, divided — any nuts may be substituted

1 cup golden raisins (pre-soak in warm water for 30 minutes)

confectioners sugar (optional)

salted caramel sauce for serving (optional)
Salted Caramel Sauce
1 cup sugar

6 tbsp butter, cubed

1/2 cup heavy cream, room temperature

2 tsp kosher salt (see Notes)
Directions
To prepare the cake
Pre-heat oven to 350˚ F (175˚ C).

Place all ingredients — except apples, raisins, and nuts — in a large mixing bowl. Beat with a spoon until well-blended. Batter will be stiff.

Add apples, raisins, and half the nuts to the bowl and stir till evenly distributed.

Pour batter into a well-greased 9 X 13″ baking dish. Sprinkle the top with the remaining nuts.

Bake in pre-heated 350˚ oven for 45 minutes. A toothpick inserted into center should be clean upon removal.

Allow to cool before dusting with confectioners (powdered) sugar and serving.
To prepare the salted caramel sauce
Pour the sugar into a medium sauce pan (see Notes) over med-high heat.

Stir the sugar as it begins to melt and continue to do so until it begins to boil. Stop stirring the moment it begins to boil. (see Notes)

Once boiling, look for it to change to an amber color. If necessary, swirl liquid in the pan but do not stir.

Once the sugar has turned amber in color, reduce heat to medium, add the butter and whisk vigorously until melted and fully blended.

Remove from heat, gradually add the cream, whisking all the while. Once blended, add the salt and continue to whisk until fully mixed.

Set aside to cool for a few minutes before pouring into a sealable container for storage in the fridge, where it will keep for a couple of weeks.

Warm before serving with your favorite dessert.
Notes
The recipe will prepare salted caramel sauce. If you're not a fan of salted caramel, reduce the amount of salt used, but do not eliminate all of it. A bit of salt is usually recommended with sweet preparations. I'd suggest using 1/8 or 1/4 tsp instead of the amount listed in the recipe.
Be sure to use a large enough saucepan. The sugar will boil and could boil over if your pan is too small.
You may stir the sugar as it melts but must stop stirring the moment it begins to boil. Failure to do so may result in sugar crystals ruining the texture of the finished sauce. Once almost all the sugar is melted, it's best to put away the spoon and swirl the pan's contents until all is melted, boiling, and begins to turn amber-colored.