Artichokes Stuffed with Pancetta and Parsley
Artichokes Stuffed with Pancetta and Parsley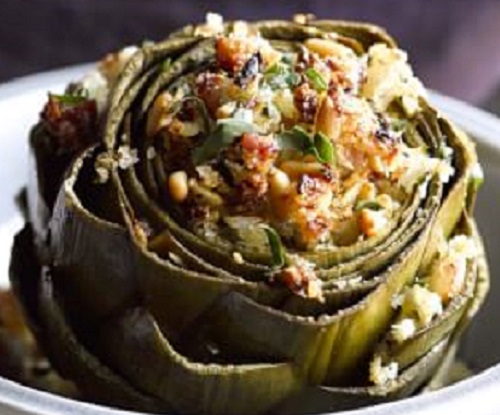 Ingredients:
Makes 4 first-course servings
2 lemons, halved
4 large artichokes
3 tablespoons extra virgin olive oil
3 ounces pancetta,* finely chopped
1/2 cup minced fresh Italian parsley
2/3 cup water
Directions:
Squeeze juice from 1 lemon into large bowl of cold water; add 2 lemon halves.
Cut stem off 1 artichoke; cut stem into 1/4-inch-thick rounds.
Place rounds in lemon water.
Starting at base of artichoke, bend outer leaves back; snap off where leaves break naturally, leaving tender yellow-green leaves attached.
Using vegetable peeler, trim outside of base until no dark green areas remain.
Rub cut surfaces with remaining lemon halves.
Cut off top half of artichoke.
Pull out purple-tipped leaves from center.
Using spoon, scoop out fibrous choke.
Place artichoke in lemon water. Repeat with remaining artichokes.
Drain artichokes and stems.
Heat 2 tablespoons olive oil in heavy large skillet over medium heat.
Add artichokes and stem rounds.
Cook until artichokes are golden, about 4 minutes per side. Remove from heat.
Transfer stem rounds to small bowl.
Mix pancetta and parsley in bowl; spoon into artichokes.
Drizzle 1 tablespoon olive oil over artichokes in skillet.
Add 2/3 cup water; bring to boil.
Cover; cook artichokes over medium-low heat until cooking liquid is reduced by about half, about 25 minutes.
Add stem rounds; cook about 2 minutes.
Serve artichokes surrounded by stem rounds and cooking liquid.