Arugula Salad with Pancetta, Olives, and Parmigiano
Arugula Salad with Pancetta, Olives, and Parmigiano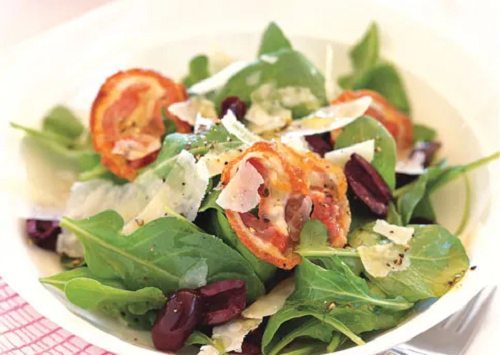 Ingredents
Makes 2 servings.
6 thin slices pancetta
1 and 1/2 tablespoons extra-virgin olive oil
1 tablespoon fresh lemon juice
4 cups (loosely packed) arugula
1/3 cup Kalamata olives, pitted, halved
Parmigiano cheese shavings 
Directions: 
Arrange pancetta in single layer in medium nonstick skillet.
Cook over medium heat until browned and crisp (do not turn), about 7-8 minutes.
Transfer to paper towels to drain.
Whisk olive oil and lemon juice in small bowl.
Season dressing with salt and pepper.
Place arugula and olives in medium bowl; toss with dressing.
Divide salad between plates.