Asparagus Frittata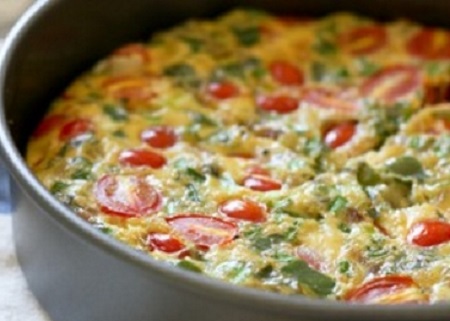 INGREDIENTS
Serves 2 to 4 people
2 Tbls of extra virgin olive oil

1 Tbls of butter

15 asparagus spears, cut into pieces

1 yellow onions, diced

1 green bell pepper, diced

1 medium white potato, diced

10 cherry tomatoes, sliced in half

1/2 tsp of salt

1/2 tsp of fresh ground black pepper

6 large eggs

1/4 cup of milk

1/4 cup of fresh grated Romano cheese

9 inch springform pan

Cooking spray

PREPARATION

Preheat the oven to 350 degrees

Heat the oil in a large frying pan.

Stir in the asparagus, onions, peppers and potatoes.

Cover and cook stirring on occasion until the vegetables are tender and the potatoes are slightly browned.

Season with salt and pepper

In a large bowl whish together the eggs, milk and cheese.

Spray the springform pan with the cooking spray and cover the bottom with aluminum foil.

Place the pan on a cookie tray.

Add the vegetable mixture to the springform pan.

Stir in the egg mixture and bake for approximately 40 minutes until the center is firm.

When finished run a knife around the edge of the pan and release the sides.