Bacon, pesto, tomato, mozzarella grilled sandwich
Bacon, pesto, tomato, mozzarella grilled sandwich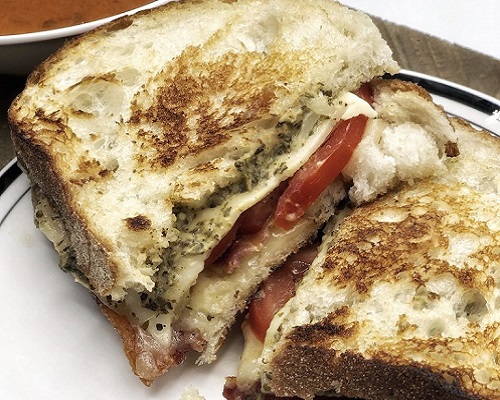 Ingredients
    ⅓ cup prepared pesto
    1 loaf ciabatta bread (about 1 pound), halved crosswise and lengthwise
    2 medium tomatoes, sliced thin and salted
    8 ounces fresh mozzarella, sliced thin
    8 slices thick-cut fried bacon

Instructions
    Heat a large skillet or griddle over medium-low heat.
Spread pesto over all 4 bread slices.
Top each piece with a portion of tomatoes and cheese; lay bacon over bottom slices.
Carefully cap each sandwich; place on warm griddle.
Weighting sandwiches with a skillet or baking dish large enough to cover the sandwiches and enough weight to press them down (cans work well), cook until bread is crisp and golden and cheese melts, about 5 minutes per side.
Halve and serve.