Baked Bluefish or Mackerel
Baked Bluefish or Mackerel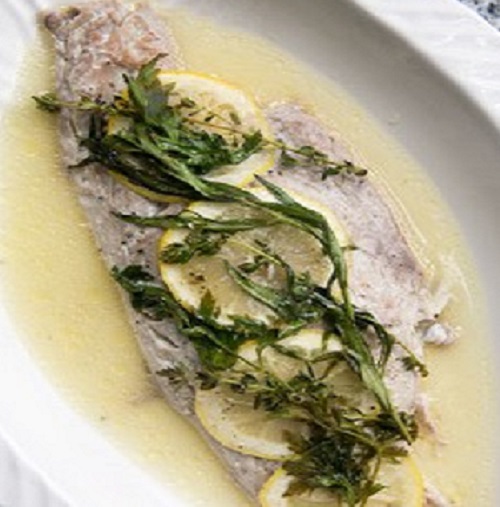 Ingredients
2½ lb. bluefish fillets washed and patted dry. Cut into 4 or 8 pieces
4 medium potatoes (about 1 lb.) thinly sliced and blanched
4 tablespoons of olive oil
4 tomatoes, coarsely chopped (about 1 lb.)
2 garlic cloves, finely chopped
½ cup of white wine
¼ cup of basil leaves, finely chopped
Salt and pepper to taste
Pinch of hot red pepper flakes (Optional)
Basil leaves for garnish
Instructions
1. In a medium size bowl combine the 2 tablespoons of oil, tomato, garlic, chopped basil, a pinch of red pepper (optional) and salt and pepper to taste. Put aside.
2. Grease a baking pan with the 2 tablespoons of oil and spread blanched potatoes on it, sprinkle some salt and pepper.
3. Place fish over potatoes, skin side down. Shake salt and pepper over fish fillets and cover the fillets with the basil- garlic-tomato sauce; pour wine over it. Cover with aluminum foil and bake at 400 degrees for 15 minutes, than remove foil and bake for an additional 15 minutes or until done.
4. Transfer to a serving dish and garnish with basil leaves. Serve the potatoes as the contorno, "side dish".