Baked Pasta Messina Style
Baked Pasta Messina Style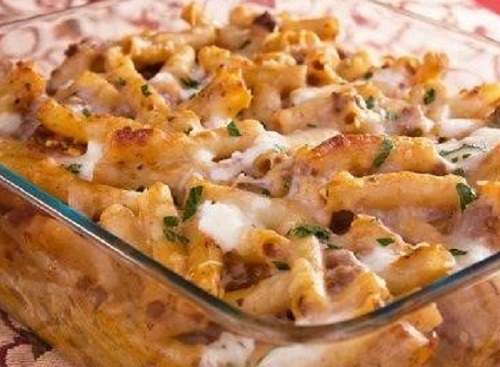 Ingredients
1 lb. of pasta. Preferable penne or ziti

2 medium eggplants (about 2 lb.) sliced unpeeled 3/8 inch thick.

Oil to fry eggplants
For the sauce
1 can 28oz. Italian Peeled Tomatoes

2 tablespoons of olive oil

1 small onion, finely chopped

1clove of garlic, minced

Basil

Salt and pepper to taste
For the Meat Balls
1 lb. chopped meat

¼ lb breadcrumbs

¼ lb grated cheese

1 egg

½ cup of milk or water

½ clove of minced garlic and a few slices of diced onions

Salt, pepper, parsley.

10X 12 X2 inches high baking pan (oiled).
For The Condiment
2 hard boiled eggs, sliced

1/2 lb. of diced Tuma cheese. Tuma is a fresh unsalted cheese, substitute with diced mozzarella,

¼ lb. thickly sliced salami cut into small pieces

1/4 lb. toasted breadcrumbs

10X 12 X3 inches high baking pan (oiled).

Grated pecorino cheese.
Instructions
1. TO PREPARE SAUCE
In a heavy sauce pan, sauté diced onions over medium heat and after 5 minutes add minced garlic. Pour the canned tomatoes into a large container and crush them with your hands (or cut roughly with a knife). When onions are light brown, add the crushed tomatoes, basil, salt and pepper. Increase the heat to high, stirring until the sauce comes to a boil, lower the heat and simmer for 45 minutes. If sauce is to acidic add a teaspoon of sugar, like my mother used to do or add a piece of butter like my wife does.
2. TO MAKE THE MEAT BALLS
In a large bowl combine and mix the chopped meat, the breadcrumbs, and the grated cheese. Add the garlic, onion, egg, milk (or water), salt, pepper and parsley. Mix thoroughly until all ingredients are well blended. Using an ice cream scoop, scoop up mixture and divide each spoon of mixture in two parts. Using the palm of your hands coated with a little oil, form small meat balls and place in the previously oiled baking tray (10x12x2 inch). You should get about 24 small meat balls. Bake at 375 degrees for 25 minutes or until done.
3. TO PREPARE AND COOK EGGPLANTS
Place on paper towels and sprinkle both sides with salt. Let stand for 15 minutes. Pat dry the eggplants with a clean kitchen towel or paper towels. In a skillet, pour about ½ cup of oil and fry eggplants on a medium heat, without crowding them. Fry until they are light brown, piercing them with a fork to check softness to make sure they are cooked. Place fried eggplant on a paper lined dish, when cooled, refrigerate them to release some of the absorbed oil.
4. TO ASSEMBLE THE PASTA 'NCACIATA
Grease a baking dish 10X12X3 inch and coat with the toasted breadcrumbs. Reheat tomato sauce. Boil pasta in a large pot of salted water and cook al dente. No more than 6 minutes after the water restarts to boil with the pasta. Drain the pasta well and return to the pot. Add a few ladles of tomato sauce, a handful of cheese and any left over breadcrumbs. Pour a ladle of sauce over the breadcrumbs in the greased baking dish. Add one layer of pasta (about 1/3 of pasta). Sprinkle with salami and diced tuma (or mozzarella)and a layer of eggplant. Top with tomato sauce and grated cheese. Continue with another layer using 1/3 more of pasta, add the sliced hard boiled eggs, meat balls and the tomato sauce, sprinkle with cheese. Place the remaining pasta, eggplants and any other ingredients left, top with sauce and remaining cheese. Bake at 350 degree for 20 minutes. Serve hot; place on the table a black pepper mill and a bowl with grated pecorino cheese.