Potatoes Sfincione with Tomato
Potatoes Sfincione with Tomato
("Patate a Sfincione")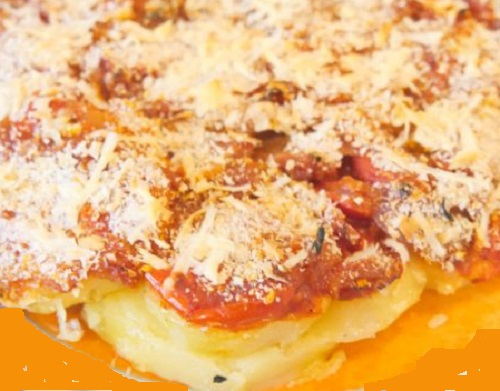 Ingredients:
2 lb. of potatoes, peeled, sliced at about ½ inch, cover with cold water

½ cup of oil

2 medium onions, sliced

1 ½ cups peeled tomatoes, diced

3 anchovies

6 oz. fresh Caciocavallo cheese or Provola cheese diced very small

2 oz. breadcrumbs
Preparation
The Sauce
In a 4-quart saucepan, sauté sliced onions in 5 tablespoons of olive oil over a medium heat for 6 to 8 minutes, until golden in color.

Add the tomatoes, very little salt and pepper to taste.

Cook on a medium heat for 2 minutes, lower the heat and then simmer for 10 minutes, stirring occasionally.

Set aside.

Crush and mix anchovies in a dish with 3 tablespoons of oil, set aside.
Assembling
The Potatoes Sfincione
Drain the potatoes and pour into a large tureen;

Add and mix in the anchovies, half of the diced cheese and combine with about ¾ of the sauce.

Blend the ingredients well and transfer half of the mixture into an oiled medium size pan, sprinkle the rest of the cheese, pour the remaining potatoes and top with the sauce left over.

Sprinkle breadcrumbs on the top and drizzle with leftover oil.

Cover with aluminum foil and bake at 400 degrees for 30 minutes and for an additional 30 minutes uncovered.

Test if the potatoes are sufficiently cooked and if necessary bake for a few additional minutes.