Baked Salmon in Parchment Paper
Baked Salmon in Parchment Paper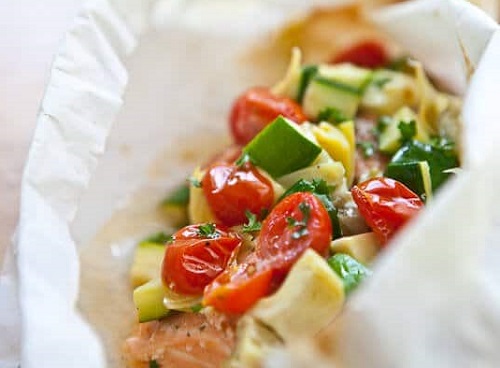 Ingredients:
One 5-6 ounce skinless fish fillet (ex. salmon)
1/2 cup diced zucchini
3 cherry tomatoes, halved
2 small artichoke hearts, quartered
2 rosemary sprigs (or parsley or thyme)
1 tablespoon dry white wine
Salt and pepper
Squeeze of fresh lemon juice
Two 16-inch parchment paper sheets (or tin foil)
Directions:
Preheat oven to 450F.
Lay one parchment paper over another, long side of the paper horizontal.
Lay herb sprigs in middle of the parchment.
Season salmon on both sides with salt and pepper.
Lay salmon on top of the herb sprigs.
Spoon in the zucchini, tomatoes and artichoke hearts over the salmon.
Season the vegetables with a pinch of salt and pepper.
Pour white wine over everything.
Seal the packet by rolling and crimping the long sides of the paper together over the fish and vegetables.
Roll and crimp the ends closed so steam does not escape.
Place on baking sheet.
Bake for about 10-15 minutes, until the salmon is cooked through (10 minutes for 1/2-inch fillet, 15 minutes for 1-inch fillet).
Before serving, carefully open the packet add just a squeeze of lemon juice over everything