Baked Shells with Fontina and Parmesan Bread Crumbs
Baked Shells with Fontina and Parmesan Bread Crumbs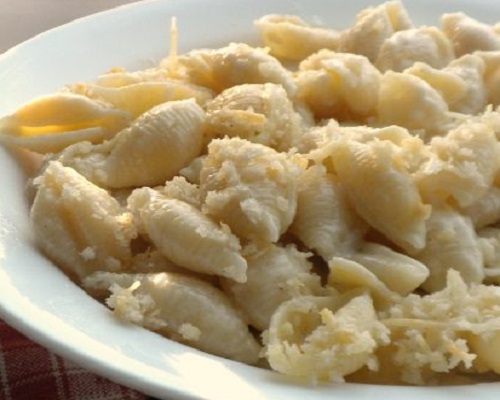 Ingredients
    Serves 4 to 6
        5 1/2 tablespoons unsalted butter
        1 pound small shells
        1 cup heavy cream
        8 ounces (about 2 cups) Fontina cheese
        Salt
        Pinch of freshly grated nutmeg
        1/3 cup plain bread crumbs
        1/4 cup freshly grated Parmigiano-Reggiano
Directions
        Bring 4 quarts water to a boil in a large pot for cooking the pasta. Preheat the oven to 400 degrees F. Use 1/2 tablespoon of the butter to grease a 13-by-9-inch baking dish, and set aside.
        Dice 4 tablespoons of the butter, and place in a large bowl. Warm the cream in the microwave, about 1 minute. Cover to keep the cream warm. Shred the Fontina. Set aside.
        When the water comes to a boil, add the shells . Cook until they are 1 to 2 minutes shy of al dente. Drain.
        Stir the shells into the bowl with the butter. Toss to coat well.
        Add the warm cream and Fontina, and stir until the cheese starts to melt. Season with salt to taste and the nutmeg.
        Pour the mixture into the baking dish.
        Combine the bread crumbs and Parmigiano-Reggiano, and sprinkle over the pasta.
        Dice the remaining tablespoon butter, and dot the crumb topping with small pieces of butter.