Basil Lemon Garlic Salmon Shrimp Kebabs
Basil Lemon Garlic Salmon Shrimp Kebabs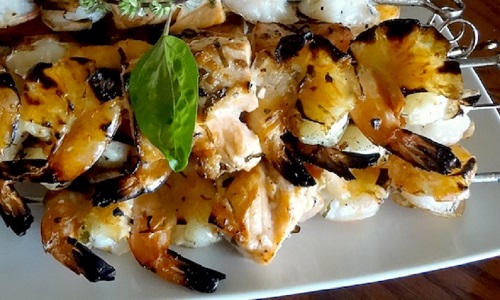 Ingredients
1 pound fresh wild skinless salmon steak
1 pound jumbo shrimp deveined with shells still on
2 large garlic cloves, crushed
1/2 lemon, juiced
handful fresh basil, chopped
Extra virgin olive oil
Sea salt and black pepper
You will also need small metal skewers.
Directions
Cut salmon into equal size large chunks. 
Combine add 1/2 cup extra virgin olive oil, fresh garlic, basil and lemon juice.
Season with sea salt and black pepper.
Add shrimp and salmon.
Set aside to marinade in room temperature for 1 hour.
Assemble kebabs Salmon then Shrimp and repeat
Brush generously with the remaining marinade.
Season with sea salt and black pepper.
Preheat barbecue to high.
Place kebabs on the barbecue and cook for 4 minutes on each side (8 minutes total).
Remove from the barbecue.
Drizzle extra virgin olive oil and lemon juice over the top to serve.