Asparagus With Quick & Easy Hollandaise Sauce
Asparagus With Quick & Easy Hollandaise Sauce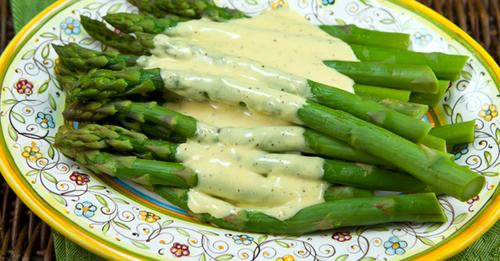 Ingredients
    1 Bunch Asparagus
    3 Tablespoons Olive Oil
    Salt & Pepper
Hollandaise Sauce:
    1 Large Egg Yolk
    1 Teaspoon Water
    1 Teaspoon Freshly Squeezed Lemon Juice
    1 Tablespoon Dijon or Grainy Mustard
    Kosher Salt & Ground Black Pepper
    1 Stick Butter (8 tablespoons, about 112 grams), Melted
Instructions
    Preheat oven to 425 degrees F.
    Trim asparagus and spread out on a baking sheet.
    Drizzle with the olive oil and season with salt and pepper.
    Roast the asparagus, turning once, for about 12 minutes or until tender crisp.
    Arrange asparagus on a platter.
    Combine egg yolk, water, lemon juice, mustard, and a pinch of salt and pepper in the bottom of a cup that barely fits the head of an immersion blender. (I used a 2-cup measure)
    Place head of immersion blender into the bottom of the cup and turn it on.
    With the blender constantly running, slowly pour the hot butter into cup.
    Continue pouring until all butter is added.
    Sauce should be very thick and creamy.
    Taste, and adjust seasonings if needed.
    Pour over the asparagus, and serve immediately.