Braised Beef in Barolo Wine
Braised Beef in Barolo Wine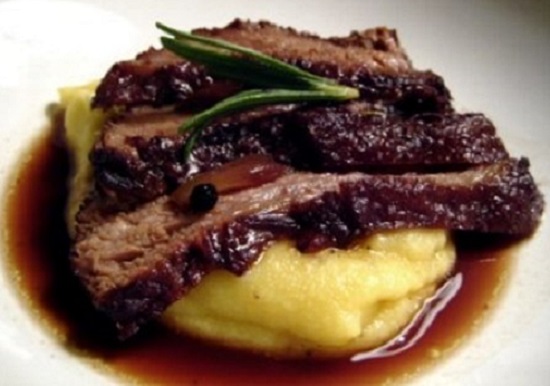 INGREDIENTS
3 to 4 pound boneless bottom round or chuck roast

1 yellow onion, sliced

3 carrots, cut into large chunks

3 stalks of celery, cut into large chunks

12 baby Portobello mushrooms, whole

3 cloves of garlic, finely chopped

3 Tbls of butter

2 Tbls of extra virgin olive oil

1/2 tsp of dried thyme

3 dried bay leaves

1/2 tsp of salt

1/2 tsp of fresh ground black pepper

1 bottle of Barolo wine

PREPARATION

Season the beef with salt and pepper.

Place the beef in a large plastic bag and add the garlic, thyme, bay leaves and wine.

Seal up the bag and refrigerate around 3 to 4 hours.

In a large pot brown the beef in the butter and oil reserving the liquid from the marinade. Strain the liquid and set aside.

Remove the beef from the pot and sauté the carrot, onions and celery until lightly browned.

Add the beef back to the pot with the marinade.

Sauté the mushrooms in 1 tablespoon of butter for 5 minutes and set aside.

Cover and cook the beef for 2 to 3 hours adding the mushroom the last 15 minutes.

serve it on a bed of soft polenta.

Plate the meat, slice and top with vegetables and Barolo wine sauce. If sauce is too thin, bring to a boil and simmer 5 to 10 more minutes.