Braised Italian sausages with cheesy polenta
Braised Italian sausages with cheesy polenta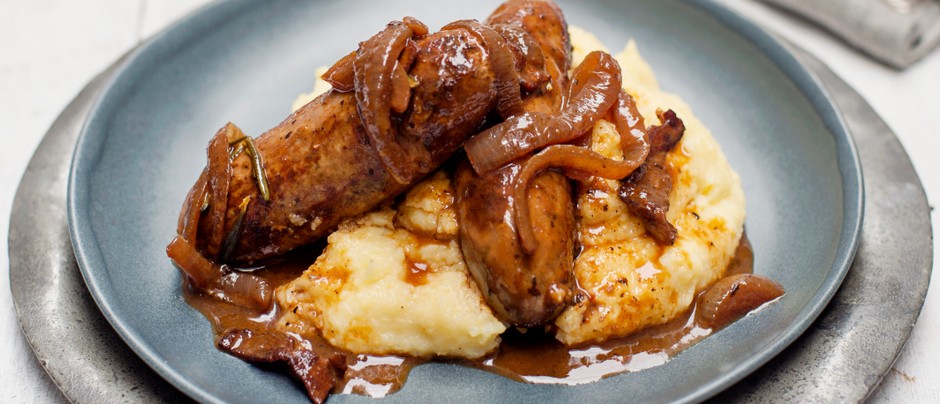 Italian-style sausages with bacon, herbs and a splash of red wine. Serve with some cheesy polenta for extra flavor and you've got a quick and easy midweek meal for all the family
Ingredients
serves 4

olive oil

Italian sausages

8

smoked bacon

8 slices chopped


onion

1, sliced

garlic

1 clove, crushed

tomato purée

1 tbsp

red wine

250ml

rosemary

a few sprigs, leaves stripped

chicken stock

1.2 litres

instant polenta

200g

butter

50g

parmesan

50g, grated
Method
Step 1

Heat a little olive oil in a pan and brown the sausages all over. Take out of the pan. Add the bacon to the pan and cook until crisp.

Step 2

Now add the onions and cook until soft and golden. Add the garlic and tomato purée and cook for a minute then add the red wine and cook until reduced by half.

Step 3

Put the sausages back in then add the rosemary and 200ml of the chicken stock. Simmer for 20 minutes until the sauce has reduced and the sausages are cooked.

Step 4

Make up the polenta following pack instructions using the rest of the stock.

Step 5

Beat the butter and cheese into the polenta and taste it before adding more seasoning, if needed. Add a splash more stock if you like it a little looser. Serve topped with the sausages and sauce.