Breaded Cod Fillets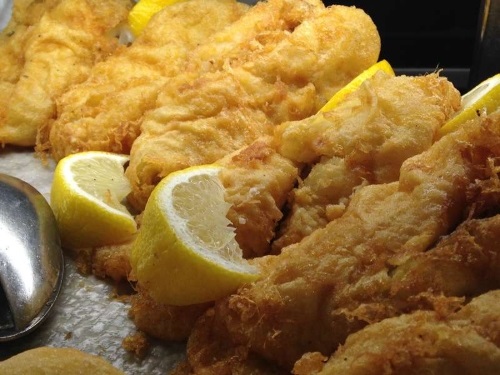 INGREDIENTS
Serves 4 people
4 5oz fish fillets, fresh or frozen

2 eggs

1/4 cup of milk

1 cup of bread crumbs, fresh

1/4 cup of fresh grated parmesan cheese

1/4 of fresh Italian flat leaf parsley

1 tsp of dried basil

1 tsp of dried oregano

1 tsp of dried thyme

1 tsp of garlic powder

1 tsp of salt

1 tsp of fresh ground black pepper

3 Tbls of extra virgin olive oil

2 Tbls of butter

PREPARATION

Rinse the cod under cold water and pat dry with a paper towel.

In a shallow bowl whisk together the eggs and milk.

In another shallow bowl, mix together the breadcrumbs, cheese, parsley, basil, oregano, thyme, garlic, salt and pepper.

Dip the cod into the egg mixture then coat with the breadcrumb mixture.

Refrigerate for around a half hour.

Heat the oil and butter in a large frying pan.

Fry the cod until golden brown. Around 4 to 5 minutes on each side.

Drain on a paper towel and serve.