Brodetto Recipe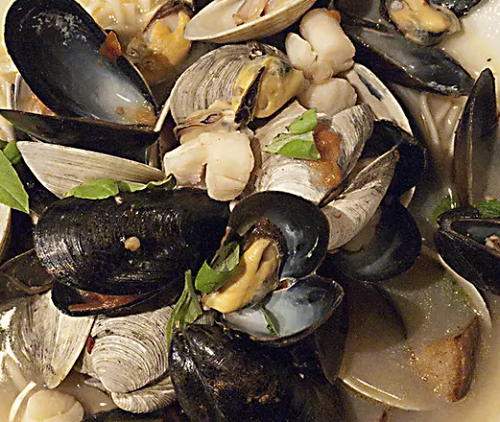 Yield: 6 generous servings

Ingredients
3 tbsp olive oil

1/4 to 1/2 tsp red pepper flakes

1 medium onion, chopped

3 cloves garlic, minced

3 tbsp fresh parsley, chopped

1 cup stock (fish, clam, vegetable, or chicken)

1 cup dry white wine

1  large can (28 oz) whole or large dice tomatoes. (or 8 to 10 fresh plum tomatoes, peeled, seeded, and chopped into large pieces)

3 or 4 stems of fresh thyme

1/2 tsp Italian seasoning

18 little neck or 24 manila clams or cockles

1 doz mussels

3/4 lb large shrimp

1 doz scallops

1 – 1 1/2 lbs fish fillets, cut into large, equal sized pieces (cod, haddock, halibut, striped bass, pollock, red snapper, or any combination may be used)

salt and pepper

2 tbsp fresh basil, chopped, for garnish

extra virgin olive oil, for garnish
Directions
At least an hour before you start cooking, scrub all the mollusks with a brush and soak the clams and cockles in cold water. Change the water at least once in the next hour. If using mussels, before scrubbing, grab hold of the "beard" and pull to remove. Keep cold until ready to cook.

Once the mollusks have been sufficiently soaked and cleaned, heat olive oil in a large saucepan over med-high heat. Add red pepper flakes and cook for 1 minute.

Add onion and sauté until translucent, about 5 minutes. Season lightly with salt and pepper.

Add garlic and parsley and continue sautéing for another minute or so.

Add stock and wine, using the liquids to deglaze the pan.

Add the tomatoes. If using canned whole tomatoes, use your hands to tear the tomatoes before placing the chunks into the pan. This is a stew, not a sauce. Large chunks are preferable.

Add thyme and Italian seasoning. Season lightly with salt & pepper.

Bring pot to the boil, reduce heat to med-low, and simmer for 30 to 40 minutes. If stew becomes too dry, add water or stock.

Increase heat to med-high, add clams and/or cockles and cover the pan.

After about 3 minutes, add the mussels and cover.

About 3 minutes later, place the shrimp atop the mollusks and return the cover to the pan.

2 minutes later, add the scallops and cover the pan.

About a minute later, add the fish to the top of the stew, cover the pan, and cook until all is done, about 3 or 4 minutes.

Serve immediately in large bowls, garnished with a sprinkling of good quality extra virgin olive oil and freshly chopped basil. Be sure to have plenty of good, crusty bread available.