Brown Sugar, Pear, Lime and Ginger Cake
Brown Sugar, Pear, Lime and Ginger Cake
*****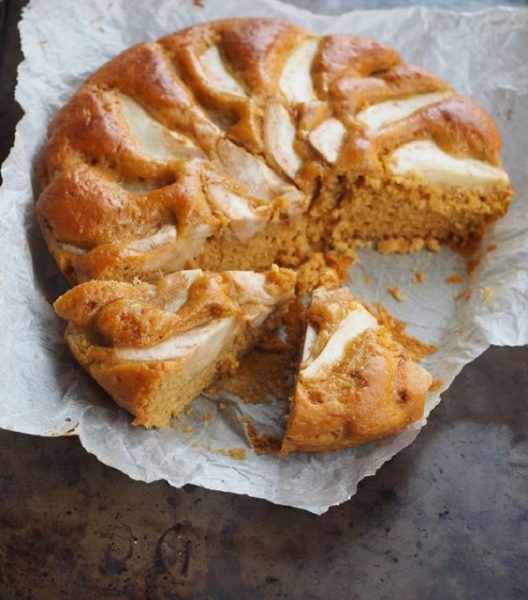 Brown Sugar, Pear, Lime and Ginger Cake
It's the closest thing to a warm hug I can offer you these days. 💕
*******
INGREDIENTS 🍐
3 small pears
3 eggs
3/4 cup of brown sugar
1 teaspoon of freshly grated ginger

1/3 cup extra-virgin olive oil
1/2 cup of buttermilk
juice and zest of two limes
1 cup of almond flour (almond meal)
1-1/2 cup of self-raising flour (gluten free flour will also work)
METHOD
1. Preheat your oven to 180 C (350 F)
2. Line a round cake tin with baking paper.
3. Cut the pears into two, scoop out the core, then cut each half into two, lenghtways.
4. Beat the eggs with sugar until fluffy, add ginger, oil, buttermilk, lime zest and juice and whisk well. Add the almond flour and the sifted self-raising flour and gently incorporate them into the batter without over mixing.
Pour the batter into the tin, arrange the pears on top and bake for 40-45 minutes or until a skewer comes out clean when inserted into the center of the cake. 🍐🍐🍐
5. leave to cool on a rack for 30-45 minutes before serving.

Photo by: taste.com.au
The Williams Bartlett pear (pictured above), commonly called the Williams pear in Australia or the Bartlett pear in the United States and Canada, is the most commonly grown variety of pear in most countries outside Asia.
The origins of this variety are uncertain. "Bon Chrétien" (Good Christian) is named after Francis of Paola, a holy man whom King Louis XI of France had called to his deathbed as a healer in 1483.
Francis offered the king a pear seed from his native Calabria with instructions to plant and care. Hence the pear tree was called The "Good Christian" Pear. 

Photo and note below by: Taste.com.au
William Bartlett pears: The soft, sweet flesh of this pear variety is ideal for snacking, baking in cakes such as this one and tarts or poaching with vanilla for a breakfast compote.
We hope you enjoy this wonderful recipe for
Brown Sugar, Pear, Lime and Ginger Cake
******

and
Visit us on the web at dev.everybodylovesitalian.com