Bucatini Alla Caruso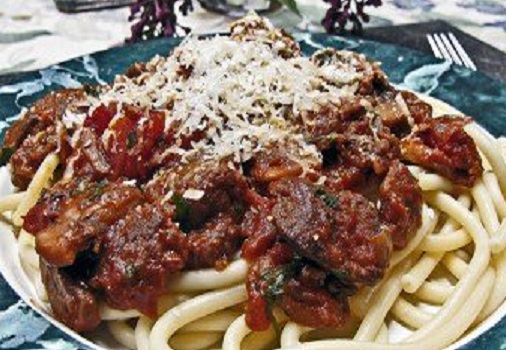 Chicken liver is widely used in Italy. One traditional Tuscan recipe is for Chicken Liver Crostini or sometimes they are just simply sautéed with garlic and onions
INGREDIENTS
Serves 4 people.
1 pound of chicken livers separated into individual lobes and all visible fat removed

1 cup of flour for dredging

2 Tbls of extra virgin olive oil

2 Tbls of butter

2 cloves of garlic, chopped

1 yellow onion, chopped

4 oz. of Crimini mushrooms, sliced

4 oz. of white button mushrooms, sliced

4 oz. of shitake mushrooms, sliced

1 cup of dry red wine

1 28 oz can of San Marzano tomatoes, peeled

1/4 cup of parsley, chopped

1/2 tsp of fresh ground black pepper

1/2 tsp of salt

1 pound of Bucatini

PREPARATION

Season the flour with a little salt and pepper.

Dredge the chicken livers in the flour.

In a large skillet, saute the chicken livers in the olive oil until brown and firm.

Remove the livers from the pan and set aside.

Add the butter to the pan and saute the garlic, onions and mushrooms for 5 minutes.

Add the wine and reduce to about half.

Puree the tomatoes and add then to the pan.

Slice the chicken livers in half and add them to the pan.

Season with salt and pepper and cook on low heat for around thirty minutes.

In 6 quarts of boiling salted water cook the Bucatini  until al dente.

Drain and plate the pasta.

Cover with the sauce and garnish with parsley.

Serve with Parmesan cheese.