Bucatini all'Amatriciana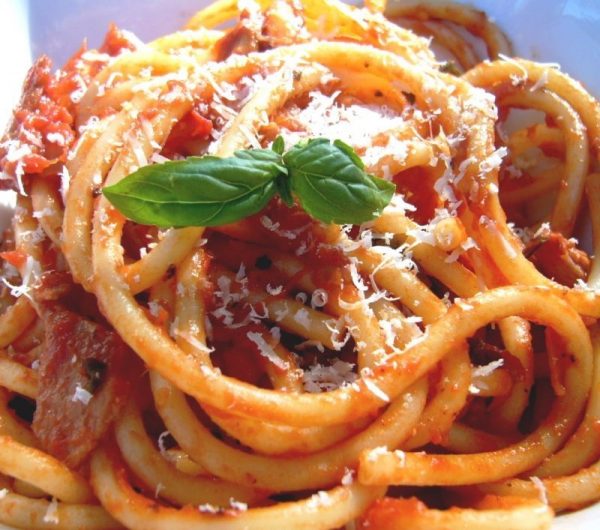 Guanciale, pork cheek that resembles unsmoked bacon and is cured with salt, pepper and sometimes garlic, is traditionally used in this dish from Amatrice, a small town near Rome known for its excellent pork products. Pancetta, rolled pork belly cured in a similar manner and more widely available outside Italy, can be substituted. Tomatoes, onion, garlic and chili complete the sauce, which is usually served over bucatini, a thick strand pasta with a hole in the center.
Ingredients
Salt and freshly ground pepper, to taste

1 Pound

refrigerated fresh bucatini or 14 ounces dried thick spaghetti

1/2 Cup

olive oil

8 Ounces

guanciale, cut into ½-inch cubes

4

peeled whole plum tomatoes, preferably San Marzano if canned

1/4 Teaspoon

red pepper flakes

1 Cup

dry white wine

1 Cup

grated pecorino, plus 1 cup for garnish

4 Teaspoons

chopped flat-leaf parsley
Directions
Bring a large pot of salted water to a boil over high heat. Drop in the pasta, quickly return to a boil, and cook until tender yet firm, 2-7 minutes, depending on how long it has been refrigerated (or 8-9 minutes for the dried stuff). Drain the pasta, reserving the pasta water.
Meanwhile, heat 4 teaspoons of the oil in a large sauté pan over medium-high heat. Add the guanciale and cook until crispy and golden brown, stirring now and then, about 5 minutes. Add the tomatoes and pepper flakes and break up with tongs. Add the wine and 2 cups pasta water and boil until the sauce reduces in volume and thickens slightly, about 10 minutes.
Add the drained bucatini to the pan along with 1 cup of the pecorino, parsley, and remaining olive oil. Season with salt and pepper, to taste, tossing until the sauce is creamy. If the sauce gets too thick, add more pasta water. Divide among warm pasta bowls and garnish with the remaining 1 cup pecorino.