Bucatini Omelette – A Fat Tuesday Recipe from Naples
Bucatini Omelette – A Fat Tuesday Recipe from Naples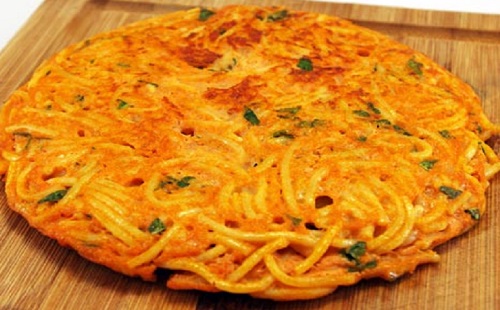 If you are looking for Fat Tuesday food traditions, you can't miss this one: a delicious Pasta omelette hailing from Naples.
This pasta frittata is made using bucatini but if you have some leftover pasta, even in other shapes, you can use it anyway. This dish may look like a bit poor as compared to other Carnival recipes. Yet, you can enrich it if you want, adding more flavor to this simple delicious finger food idea. In fact, the pasta omelette is a traditional Carnival food because people used (and still use) to go out to celebrate Carnival on Fat Tuesday, and the frittata was perfect to take out since it didn't need to be warmed up before eating!
Yet, it couldn't be a just a simple omelette. It had to be special, it was for a special occasion! So, they added some pasta, some cheese… and the frittata became a real treat!
Try this bucatini frittata once. You won't do without it anymore!
Instructions
Cook the pasta in salted boiling water until it is al dente.
In a bowl, mix the ricotta, the eggs, the Parmesan cheese, a good sprinkling of pepper, and the remaining optional ingredients if you choose to further personalize your frittata.
Season with salt.
Drain the bucatini when cooked. Drain the pasta well because tebd to keep a lot of water.
Pour it into the bowl with the mix of eggs and cheese, and stir.
Heat a spoon of oil in a frying pan (possibly made of iron), pour the mixture in it, and cover with a lid.
When the frittata achieves a good consistence, turn it upside down using the lid or a plate,
The pasta omelet can be consumed at room temperature.
Our tip
For a lighter dish, bake the frittata in the oven for 12 minutes in a pre-heated oven at 190C / 370F.