Buffalo ricotta ravioli with zucchini, prosciutto and mascarpone
Buffalo ricotta ravioli with zucchini, prosciutto and mascarpone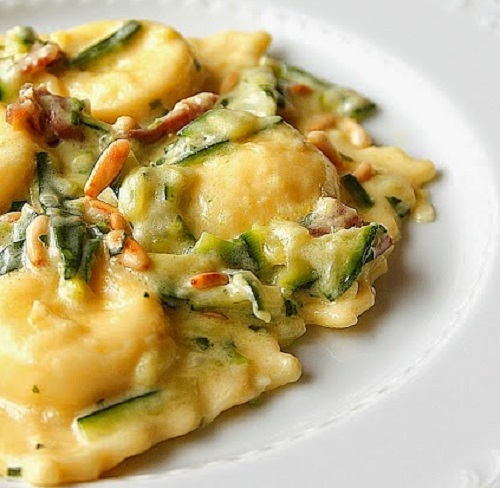 Buffalo ricotta ravioli with zucchini, prosciutto and mascarpone
Ingredients
For the ravioli :
250 g of durum wheat semolina
2 eggs + 1 egg yolk
25 g of water
300 g ricotta di bufala
a pinch of nutmeg
salt q.b.
For the dressing :
2 zucchini
100 g mascarpone
30 g pine nuts
70 g of ham in a single slice
1 spring onion
4 tablespoons oil e.v.o.
a few sprigs of marjoram
4 tablespoons of grated Grana Padano
Prepare the dough by working the flour with 2 eggs and water, knead
until you get a smooth texture and homogeneous, and let it rest covered
by a towel for 30 minutes .
Meanwhile prepare the filling : Mix the egg yolk with the ricotta , add a pinch
nutmeg and salt q.b.
Roll out the dough and formed of sheets of about 3 mm thick , with a
distributed over a teaspoon dollops of ricotta, cover with another
thumbs , fingers , press around the filling to let the air out and cut
many squares of equal size .
Check the zucchini and cut them in half , remove the flesh and cut central
strips. In a frying pan with the olive oil and sauté the onion sliced
thinly , add the ham cut into strips and saute for a minute
and then add the zucchini and chopped marjoram , salt and cook covered for
about 10 minutes, if necessary together with a little water.
Cook the ravioli in salted water , meanwhile, toasted pine nuts in a frying pan
pan , drain preserving a little of the cooking water and pour into the pan
with zucchini. Add the mascarpone cheese , grated Parmesan cheese , a little water
Cooking and pine nuts . Mix well and , if you like , add a sprinkling of pepper
Freshly ground .