Carrot Cake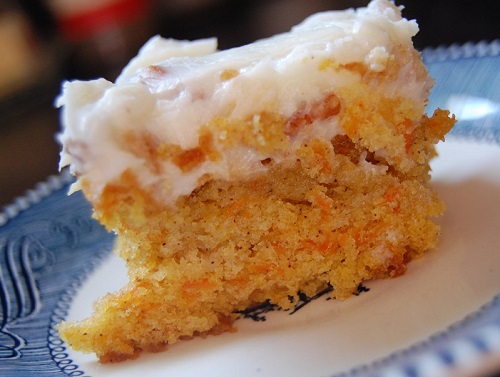 Ingredients
For the cake:
2 cups sugar
1 cup vegetable oil
4 eggs
2 cups all-purpose flour
1/2 teaspoon salt
1 teaspoon baking soda
1 teaspoon baking powder
1 teaspoon ground cinnamon
2 cups grated carrots
For the icing:
1 stick (1/4 pound) regular butter, softened
1 package (8 ounce) cream cheese
1 pound powdered sugar
1 cup pecans, chopped finely
2 teaspoons vanilla
Directions
For the cake:
Mix sugar, oil, and eggs.
Sift together flour, salt, baking soda, baking powder, and cinnamon.
Add to first mixture and combine.
Add carrots and mix well.
Pour into a greased and floured pan (Bundt, sheet cake, 9 x 13 Pyrex) and bake until done, 25 to 50 minutes, depending on the pan you use (I used a dark 9 x 13 pan, and mine was ready in about 40 minutes). Cool completely.
For the icing,
Add cream butter and cream cheese in a large bowl. Add sugar and vanilla and blend, then mix in the nuts. Spread on cooled carrot cake.