Chicken casserole with lentils recipe
Chicken casserole with lentils recipe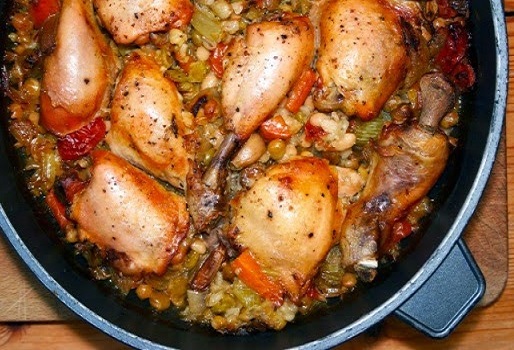 The chicken and lentil casserole is prepared by cutting the chicken into pieces and rosolandolo in the pan and then combining it with lentils cooked with vegetables in part; at the end of the chicken will be served in a dish with vegetables surrounding it.
Difficulty: Easy
Persons: 4
Time: 1 h
Ingredients
1 Chicken
400 g tomato pulp
100 g Lentils
1/2 Carrot
1 Garlic clove
1/2 celery stalk
1/2 cup white wine
1 sprig rosemary
q.b. Extra virgin olive oil
q.b. Salt
q.b. Pepper
Preparation
Soak the lentils for 20 minutes. Meanwhile, cleaned, washed and chopped carrot, celery and onion. Drain the lentils, put them in a saucepan with the vegetables, cover with water, cook on the fire, skim, lower the temperature, salt and continue cooking for 20 minutes.
Divide the chicken into eight pieces, without breaking bones, salt and pepper. In a saucepan, saute the garlic, add the chicken pieces, saute, stir, pour the white wine, let it evaporate, add the chopped tomatoes, rosemary and lentils, cover and cook for 20 minutes, adding a little water if too dry.
Serve the chicken in a serving dish with vegetables and lentils.