Chicken Marsala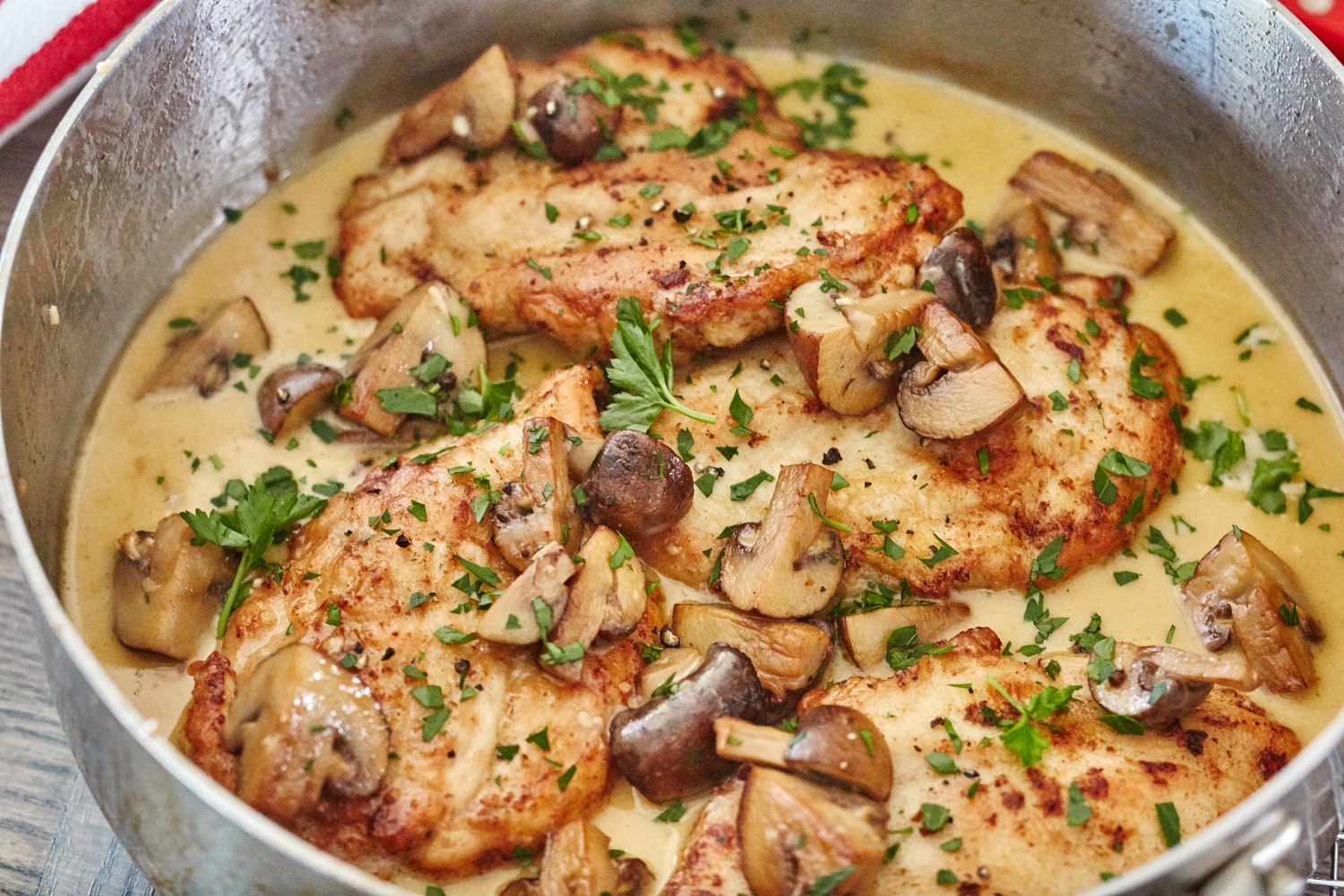 Serves4 to 6
Prep time: 20 minutes
Cooking time: 33 minutes to 35 minutes
Ingredients
For the chicken:
1 cup all-purpose flour, divided
1 teaspoon kosher salt
4 boneless, skinless chicken breasts
3 tablespoons olive oil
2 tablespoons unsalted butter
For the Marsala sauce:
2 tablespoons unsalted butter, as needed
8 ounces cremini mushrooms, quartered
2 cloves garlic, minced
3/4 cup dry Marsala wine
3/4 cup low-sodium chicken broth
1/4 cup heavy cream
Serving options:
Cooked pasta, such as angel hair
Chopped fresh flat-leaf parsley leaves
Lemon wedges
Equipment
Measuring cups and spoons
Gallon zip-top bag
Mallet or rolling pin, for pounding
Large skillet
Spatula
Baking dish or rimmed baking sheet
Instructions
Heat the oven and season the flour. Arrange a rack in the middle of the oven and heat to 200°F. Mix the flour and salt in a small bowl and set aside.
Pound the chicken thin. Working with 1 chicken breast at a time, place inside a gallon zip-top bag and pound with the flat side of a meat mallet or rolling pin to an even 1/4-inch thickness. Set the flattened chicken breast aside and repeat with the remaining breasts.
Dredge the chicken. Return the flattened breasts to the bag and add the flour mixture. Seal the bag and shake to coat.
Brown the chicken. Heat the oil in a 12-inch straight-sided skillet over medium-high heat until shimmering. Add the butter, followed by 2 of the chicken breasts. Fry until golden-brown on both sides, 3 to 4 minutes per side. Remove the browned chicken to a baking dish or rimmed baking sheet. Repeat with the remaining 2 chicken breasts.
Keep the chicken warm. Cover the chicken with aluminum foil and place in the oven to keep warm.
Brown the mushrooms. Keep the heat on medium-high. If there isn't grease left from frying the chicken, add up to 2 tablespoons more butter to the pan. Add the mushrooms and cook until their juices start to release, about 3 minutes.
Add the garlic. Add the garlic and cook until fragrant, about 1 minute.
De-glaze and reduce. Add the Marsala and scrape the bottom of the pan to remove any browned pieces. Add the broth and simmer until reduced by half and starting to thicken, about 15 minutes.
Add the cream and chicken. Add the cream and return the chicken to the sauce. Cook until the sauce thickens and the chicken is well-coated, 3 to 5 minutes.
Serve. Serve the chicken and Marsala sauce over cooked angel hair pasta if desired. Garnish with chopped parsley and a squeeze of lemon.
Recipe Notes
Storage: Store leftovers in an airtight container in the refrigerator for up to 4 days.
Join Joanne and Frank on Facebook at
and