Chicken Saltimbocca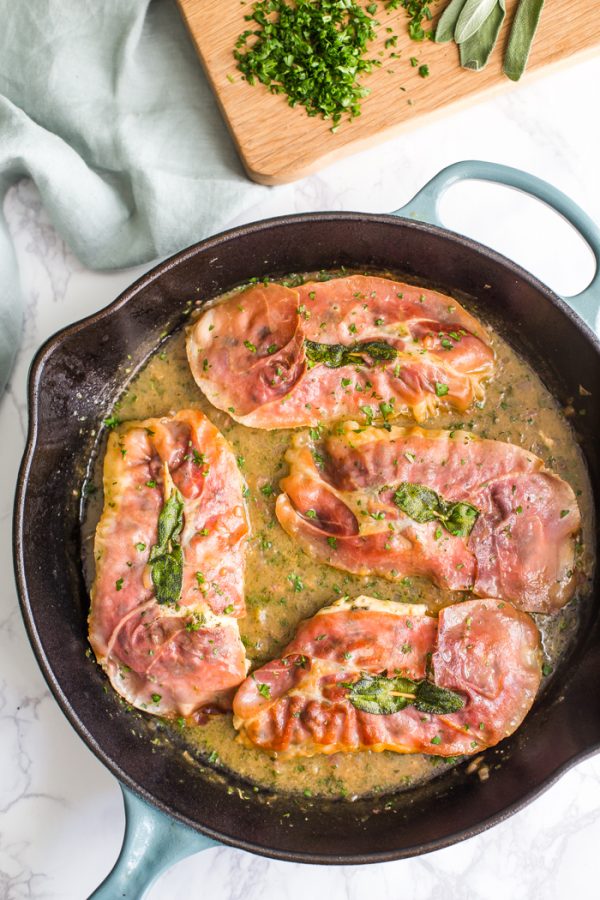 Prep Time:

10 minutes

Cook Time:

15 minutes

Yield:

4

servings 
Ingredients
4

chicken cutlets, roughly 4 ounces each
salt and pepper

2 teaspoon

s of minced fresh sage

4

fresh sage leaves

4

slices of prosciutto (you could do

8

slices and have a slice on each side if you want)

2 tablespoon

s of olive oil

1

shallot, minced

1 teaspoon

of flour (you can use a glu

ten

free flour here if needed)

1/2 cup

of chicken broth

1/3 cup

of dry white wine (vermouth is a good option here)

2 tablespoon

s of butter

2 teaspoon

s of fresh parsley, finely chopped

1 tablespoon

of lemon juice
---
Instructions
Salt and pepper both side of the chicken cutlets.
Sprinkle one side of each  cutlet with 1/2 teaspoon of the minced sage and then place a slice of prosciutto on top of the sage. Press the prosciutto into the chicken. Place a sage leaf on top of each piece of prosciutto and then secure it into the piece of chicken with a toothpick.
Heat the oil in a large skillet over medium heat. Once hot, add in the cutlets, prosciutto side down, and cook for about 3. Flip and then cook on the other side until chicken is cooked through, about 3-5 additional minutes. Once done, transfer chicken to a plate and cover with foil.
Pour out about half of the oil so that only 1 teaspoon of oil/ liquid remains in the skillet. Add in the shallot and cook for 2 minutes until softened. Stir in the flour and cook for 1 additional minute.
Whisk in the wine and broth, making sure to scrape up the brown bits from the bottom of the skillet (this is where much of the flavor comes from!). Bring to a simmer and cook for about 4 minutes until the sauce is thickened and reduced a bit.
Turn heat down to low and whisk in the butter, parsley, and lemon juice until fully combined.
Return the chicken to the skillet, prosciutto up, as well as any juices that collected on the plate. Simmer for about a minute so that the chicken can heat through again.
Remove from heat and serve the chicken with the sauce divided evenly among the 4 cutlets.
Join Joanne and Frank on Facebook at
and