Chicken Tetrazzini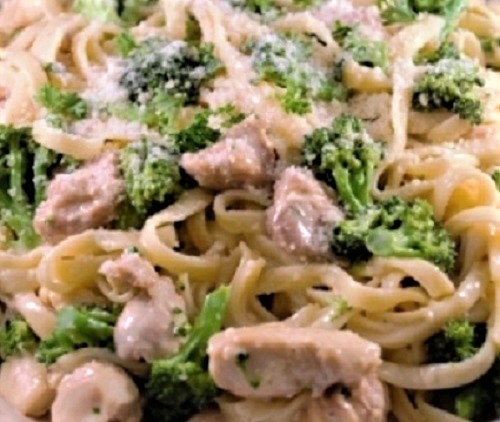 This Chicken Tetrazzini recipe serves 6
INGREDIENTS
1 pound of mostaccioli, linguini or spaghetti

4 boneless chicken breasts cut up into small pieces

1 bunch of fresh broccoli

1 pound of button mushrooms, sliced

1 medium yellow onion, chopped

1 can of sweet peas, drained

2 cloves of garlic, chopped

5 Tbls of butter

1 Tbls of vegetable oil

1/3 cup of flour

1/4 cup of dry white wine

1 cup of heavy whipping cream

1 cup of chicken broth

3/4 tsp of freshly grated nutmeg

1/2 cup of freshly grated parmesan cheese

1/4 tsp of salt

1/4 tsp of fresh ground black pepper

1/4 cup of fresh parsley chopped

1 package of fresh mozzarella cheese, sliced

PREPARATION

In a steamer steam the broccoli until tender, about 10 minutes, then set aside.

In a large skillet sauté the onions, garlic and mushrooms in the oil and butter, about 1 minute.

Add the chicken pieces and cook through for about 10 minutes.

Season with salt and pepper.

Stir in flour and add more butter if necessary.

Stir in wine and broth reduce for 2 minutes

Stir in cream and cook until sauce thickens.

Stir in parmesan cheese

Add peas and broccoli.

Grate the nutmeg all over the mixture and cook for one minute.

Cook the pasta in 6 quarts of water until done, about 10 minutes.

Drain the pasta mix it into the chicken mixture.

Place everything in a casserole dish and top with mozzarella cheese and parsley.

Place the casserole dish under the broiler to lightly brown the cheese. Be careful not to burn the top, the cheese cooks quickly.