Chicken Thighs with Harissa
Chicken Thighs with Harissa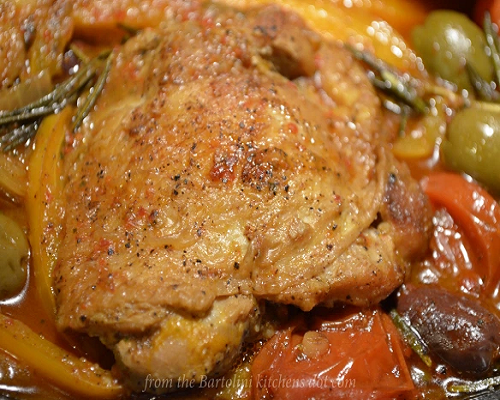 Chicken Thighs with Harissa
Ingredients
4 chicken thighs with skin and bones

1/2 c chicken stock

1/4 tsp cinnamon

2 tbsp olive oil

1 onion, sliced

1 orange bell pepper/capsicum, sliced

3 cloves garlic, sliced

2 sprigs fresh rosemary

about 12 oz (340 g) olives

12 cherry tomatoes

1/2 preserved lemon, chopped

salt & pepper

lemon zest

mint leaves for garnish – optional
Directions
Combine harissa, cinnamon, and chicken stock in a small bowl and set aside.

Heat olive oil in a large frying pan with a cover over med-high heat.

Season chicken thighs with salt and pepper and add to frying pan, skin-side down. Sauté until brown, 6 to 8 minutes, before turning over and browning the other side. Remove thighs from the pan.

Remove all but 2 tbsp of fat from the pan. Add onions and peppers to the pan and sauté until onions are translucent, about 8 minutes. Add garlic for the final minute.

Add olive salad and harissa sauce mix, stir, and heat through.

Add thighs back to the pan, skin-side down, before adding the cherry tomatoes and preserved lemon. Cover the pan and reduce heat to medium.

After 15 minutes, turn over the thighs so that they're skin-side up. Do not cover the pan, giving the sauce a chance to thicken while the chicken finishes cooking.

After the thighs have cooked for a total of 30 minutes, insert an instant read thermometer into the thickest part of the largest thigh. When the temperature reaches 165˚ F (75˚ C) the thighs are done.

Remove to serving platter, sprinkle with lemon zest, and garnish with torn mint leaves, if desired.

Serve immediately.