Chicken Vesuvio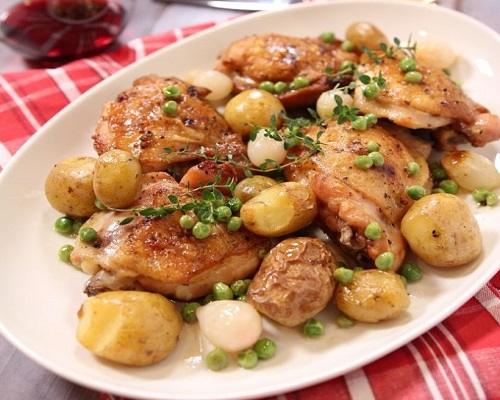 Ingredients
    8 Chicken thighs seasoned with salt and black pepper
    2 lbs. Yukon Gold potatoes washed
    8 oz. Pearl onions roots and skin removed
    10 oz. English peas fresh and cleaned
    1/2 cup White wine like Chardonnay
    3 Garlic cloves skin removed and halved
    4 Sprigs of Thyme cut/ripped in half
    Extra virgin olive oil
    Sea salt to taste
    Black pepper to taste
Instructions
    Preheat oven to 400°F.In a mixing bowl, mix the potatoes, thyme, garlic, about two pinches of salt and black pepper, and about two to three ounces of olive oil. Set aside.
    Add about two ounces of olive oil into a saute pan and warm up over a medium high flame. Place the chicken thighs into the saute pan, skin down, and fry for about 8 minutes. Once the skin looks golden, flip to the other side and cook for another three minutes.
    Lower the flame and slowly add in the white wine. Let it boil for about two minutes and then remove the chicken from the saute pan and place into a large baking pan.
    In the same saute pan, raise the flame to medium high and add in the potatoes. Saute for about two minutes and then add in the pearl onions. Saute for another minute and then pour the saute pan contents into the baking pan. Spread the potatoes and onions out so that they cook evenly. Place into the oven for thirty-five to forty minutes.
    Remove the baking pan from the oven and mix in the peas. Place back into the oven for another ten minutes.
    Remove from the oven and enjoy! Salute and cin cin!