"Who's On First" – Abbott & Costello – Brilliant…!
"Who's On First"  
Abbott and Costello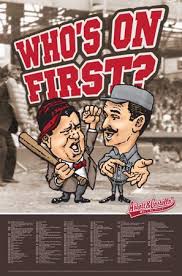 *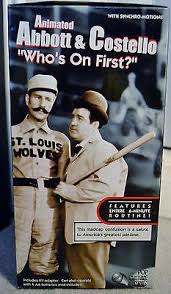 Share this with a young person who has never seen it before.
This is arguably the Most Brilliant, Most Hilarious Comedic clip ever performed.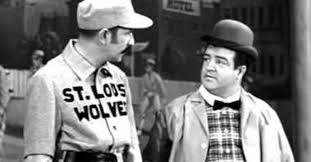 Abbott and Costello are among the few non-baseball personnel to be memorialized in the Baseball Hall of Fame, although they are not inductees of the Hall. A plaque and a gold record of the Who's on First? sketch have been on permanent display there since 1956, and a video of the routine loops endlessly in the exhibit area.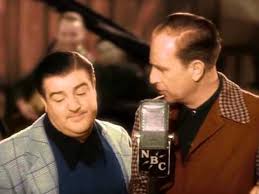 *
The team's first known radio broadcast was on The Kate Smith Hour on February 3, 1938. At first, the similarities between their voices made it difficult for radio listeners (as opposed to stage audiences) to tell them apart during their rapid-fire repartee. As a result, Costello affected a high-pitched, childish voice. "Who's on First?" was first performed for a national radio audience the following month. They performed on the program as regulars for two years, while also landing roles in a Broadway revue, The Streets of Paris, in 1939.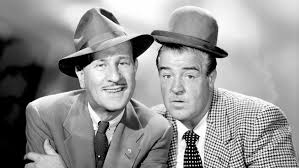 In 1942 exhibitors voted them the top box office stars in the country, and their earnings for the fiscal year were $789,026. The team did a 35-day tour during the summer of 1942 to promote and sell War Bonds. The Treasury Department credited them with $85 million in sales.
"Who's on First?" is Abbott and Costello's signature routine. Time magazine (December 26, 1999) named it the best comedy routine of the 20th century. The sketch was based on other earlier burlesque wordplay routines. They began honing the routine shortly after teaming up in 1936, and performed it in vaudeville acts in 1937 and 1938. It was first heard by a national radio audience on March 24, 1938 when the team were regulars on the Kate Smith radio show. By then, John Grant had been writing or adapting other sketches for the team and may have helped expand "Who's on First?" prior to its radio debut. He stayed on as their head writer into the 1950s.
Depending upon the version, Abbott has either organized a new baseball team and the players have nicknames, or he points out the proliferation of nicknames in baseball (citing St. Louis Cardinals sibling pitchers Dizzy and Daffy Dean) before launching into the routine. The infielders' nicknames are Who (first base), What (second base) and I Don't Know (third base). The key to the routine is Costello's mounting frustration set against Abbott's unyielding formality. Audio recordings are readily available on the Internet.
Continue on to our
NEXT PAGE
Who's on First
From You tube