Cod fillets with marrows and potatoes
Cod fillets with marrows and potatoes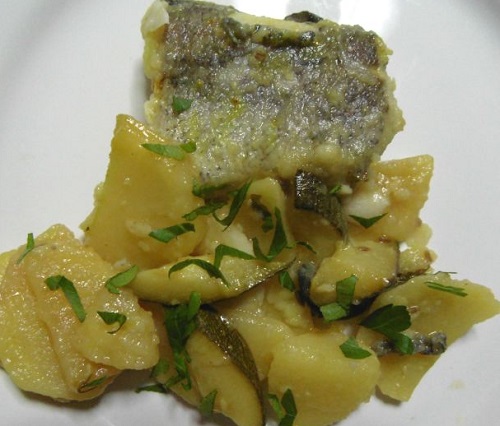 Ingredients for 4 people:
8 cod fillets
4 potatoes
4 marrows
1 onion
1 clove of garlic
1 piece of fresh ginger
juice of one lemon
4 tablespoons vinegar
1 teaspoon of curry
cumin seeds
fennel seeds
chopped parsley
flour
olive oil
salt and pepper.
PREPARATION
Wash the cod fillets, dry and cover the entire surface with flour then brown them for a few minutes in a pan with a little hot oil; drain them and arrange them in a dish.
Wash the marrows and cut into small pieces; peel, wash and cut ​​potatoes into slices.
In a large saucepan, sauté the crushed garlic clove, finely chopped onion and half a piece of ginger along with olive oil then, as soon as they are golden, remove the garlic and ginger and add the potatoes making them brown for about 15 minutes.
Add the marrows and cook for an additional ten minutes, then sprinkle with the vinegar, salt and pepper and sprinkle with a pinch of cumin seeds and fennel.
Cook over high heat for about 5 minutes then drizzle with a ladle of hot water and continue cooking for another 30 minutes over medium heat, stirring often.
When the cooking sauce will be sufficiently thickened and potatoes and marrows will be cooked, add the cod fillets, sprinkle with lemon juice, sprinkle with curry powder and cook for another 10 minutes.
Serve hot sprinkled with chopped parsley and the remaining grated ginger.