COFFEE AND ALMOND AMARETTI COOKIES
COFFEE AND ALMOND AMARETTI COOKIES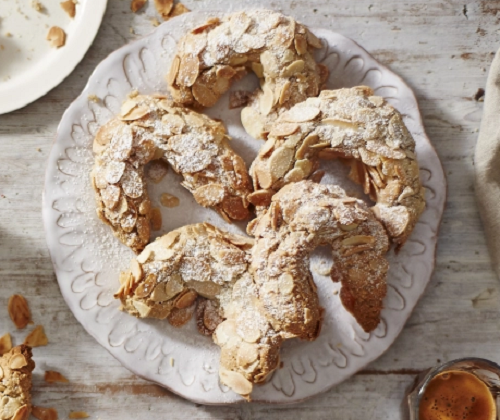 makes 20-24 large ones
INGREDIENTS
500 gr (2- 1/2cup)of caster sugar
4 egg whites
1 teaspoon of vanilla essence
1/4 teaspoon of almond extract
1 tablespoon of ground coffee beans
1 cup of flaked almonds
Icing sugar for dusting
HOW TO
1. Place sugar, almond meal, egg whites, vanilla, coffee and almond extract in a standing mixer and beat together for 1-2 minutes or until a sticky dough is formed.
2. With wet hands, roll bits of dough the size of a crescent, coat them with flaked almonds and place them onto an oven tray lined with baking paper.
3. Bake at 180 C, 350 F for 18-20 minutes or until the bottom is firm, but the cookies are still pale in colour
4. Allow to cool on a rack and firm up further at room temperature before serving. Dust with icing sugar, if liked.
5. They will keep for up to 2 weeks in an airtight container