Andrea Bocelli and Céline Dion Magnificent Duet: "THE PRAYER"
Andrea Bocelli & Céline Dion
"The Prayer"
Magnificent Performance
*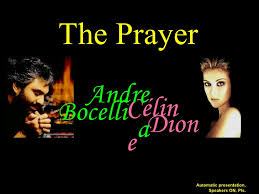 Paul Verna from Billboard called this song a "gorgeous duet". Chuck Taylor from Billboard reviewed "The Prayer", calling it "a breathtaking, ultra-lush song, and the tour de force combination of Dion and Bocelli which will send a half-dozen chills up your spine". Although he felt that the song is "an unorthodox track for the radio," Taylor called it "affecting," "heartwarming," "absolutely exquisite" and "one of Dion's most radiant performances ever".
"The Prayer" is a popular song written by David Foster, Carole Bayer Sager, Alberto Testa and Tony Renis. The song was originally recorded in two solo versions for the 1998 film Quest for Camelot, in English by Canadian singer Celine Dion and in Italian by Italian tenor Andrea Bocelli.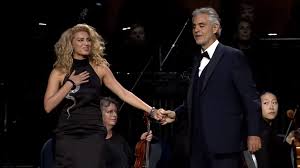 *
Originally "The Prayer" was recorded as two separate solo versions, Dion's in English and Bocelli's in Italian. They appeared on the Quest for Camelot soundtrack in May 1998. The duet was included on albums by both artists, released a few months later on Sogno and These Are Special Times. Bocelli sung original Italian while Dion translated into English.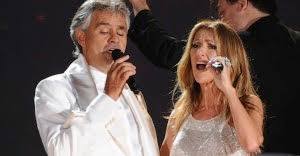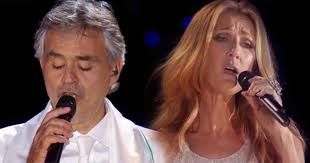 It was also featured on Dion's compilation The Collector's Series, Volume One (2000) and greatest hits My Love: Ultimate Essential Collection (2008). A re-recorded solo version by Celine Dion (renamed "A Mother's Prayer") appeared on her 2004 album Miracle.

Dion performed "The Prayer" live during her Taking Chances Tour as a virtual duet with Bocelli on the screen; the performance was released in the Taking Chances World Tour: The Concert CD/DVD.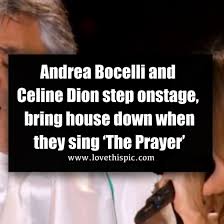 The song appeared also on Bocelli's 2007 compilation The Best of Andrea Bocelli: Vivere. Dion joined Bocelli to perform the song in his Concerto: One Night in Central Park concert in 2011; the performance was subsequently released on CD and DVD. Both Dion and Bocelli have sung the song with other artists, and various other artists have recorded the song, either as a duet or a solo.
The original version of "The Prayer" failed to chart on the US Billboard Hot 100, but was very popular on the adult contemporary charts in both Canada and the United States, peaking at number 6 and number 22 respectively. 
*
*
Join Joanne and Frank on Facebook at
and