Creamy Italian Baked Pasta with Kale and Tomatoes
Creamy Italian Baked Pasta with Kale and Tomatoes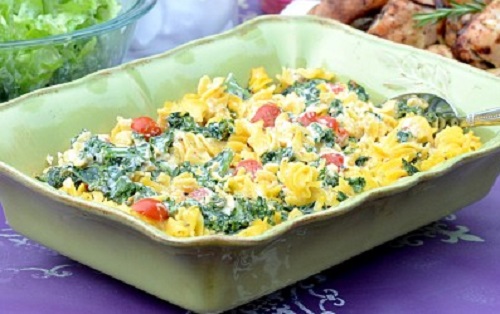 Ingredients:
Yield: 6-8 servings
1 tablespoon olive oil
1 cup (6oz) grape tomatoes, halved
3 large cloves of garlic, minced
1 teaspoon crushed red pepper flakes
1/4 teaspoon salt
8oz pasta of choice, gluten-free if needed, preferably whole-grain
8oz chopped fresh kale
1 1 cup pasta water
1/2 lb sliced Land O Lakes® 4 Cheese Italian Blend, torn into quarters
1-2 tablespoons minced fresh herbs, such as basil and thyme
freshly ground black pepper, to taste
Directions:
Preheat oven to 350ºF. Spray a 9×13″ baking dish with nonstick cooking spray.
Heat olive oil in a skillet over medium heat. Add the tomato halves and saute until softened and beginning to blister, about 4 minutes. Add the garlic, red pepper and salt. Saute for 1 more minute and remove from heat.
Bring a large pot of water to a boil. Add the pasta and cook until al dente, adding the kale during the last 5 minutes of cooking. Reserve 1 cup of cooking water, then drain the pasta well and return to the pot.
Combine the egg and pasta water in a blender and process until smooth. Pour the mixture into a medium saucepan. Gently bring to a simmer over medium-low heat. Add about 1/4 of the cheese and stir until melted; repeat with remaining cheese. Turn off heat.
Pour the cheese sauce over the cooked pasta and kale and stir to combine. Fold in tomatoes and fresh herbs. Transfer to the prepared baking dish. Bake for 20-25 minutes, until hot and bubbly.