Crespelle with spinach and ricotta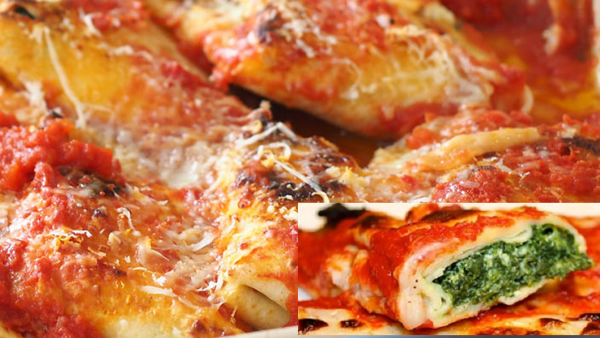 Crespelle is Italy's version of the French crepe – paper-thin pancakes filled here with spinach and ricotta then baked in a rich tomato sauce.
Ingredients
100 g (1 cup) grated parmesan or pecorino or a mixture of both

30 g butter
Sauce
2 tbsp extra-virgin olive oil

2-3 garlic cloves, smashed

2 400 g cans chopped tomatoes

1 young celery stalk

1 piece of capsicum

small handful basil leaves

salt and freshly ground black pepper, to taste
Crepes
3 eggs

400 ml milk

2 tbsp extra virgin olive oil, plus extra, for greasing

pinch of salt

250 g  0 0 flour or plain flour
Filling
1 tbsp extra-virgin olive oil

1 garlic clove, unpeeled, smashed

200 g baby spinach

300 g ricotta

25 g (¼ cup) grated parmesan

25 g (¼ cup) grated pecorino

2 eggs

small handful parsley leaves, coarsely chopped

¼ tsp freshly grated nutmeg

zest of ½ lemon
Cook's notes
Oven temperatures are for conventional; if using fan-forced (convection), reduce the temperature by 20˚C. | We use Australian tablespoons and cups: 1 teaspoon equals 5 ml; 1 tablespoon equals 20 ml; 1 cup equals 250 ml. | All herbs are fresh (unless specified) and cups are lightly packed. | All vegetables are medium size and peeled, unless specified. | All eggs are 55-60 g, unless specified.
Instructions
1. For the sauce, heat the oil and garlic in a saucepan over medium heat until fragrant. Add the tomatoes and 200 ml water and bring to a simmer. Add the celery and capsicum, reduce the heat to low and simmer gently for 45 minutes or until thickened. Season to taste.
2. Meanwhile, for the crepes, beat the eggs, milk, oil and salt in a large bowl. Whisk in the flour to create a smooth, runny batter. Pour into a jug and rest for 20 minutes.
3. Meanwhile, for the filling, heat the olive oil and garlic in a large frying pan over medium- high heat until fragrant. Add the spinach, then cover and cook until just wilted. Remove from the pan and set aside to cool. Place the remaining filling ingredients in a bowl and combine well. Squeeze the excess liquid out of the cooled spinach, coarsely chop, then add to the filling and stir to combine. Cover and refrigerate for 30 minutes to firm up.
4. To cook the crepes, heat a little oil in a medium non-stick frying pan over medium heat. Pour in just enough batter to lightly coat the base of the pan, tilting the pan as you pour. Cook for 1-2 minutes or until the edges are light golden, then turn and cook for another 30 seconds. Repeat with the remaining batter, stacking the crepes as you go.
5. Preheat the oven to 200°C.
6. Ladle a little of the tomato sauce into the bottom of a rectangular oven dish, roughly 30 cm x 40 cm.
7. Fill each crepe with 1-2 tablespoons of the filling, fold into a triangle and place into the dish in a single slightly overlapping layer. Use 2 oven dishes if needed.
8. Cover the folded crepes with of 3-4 ladlefuls tomato sauce (you will have some left over for a cheeky pasta!), dust with freshly grated parmesan and/or pecorino and top with the butter. Bake for 30-35 minutes or until bubbly and golden and the edges of the crespelle look slightly crispy.