Crispy Basil Chicken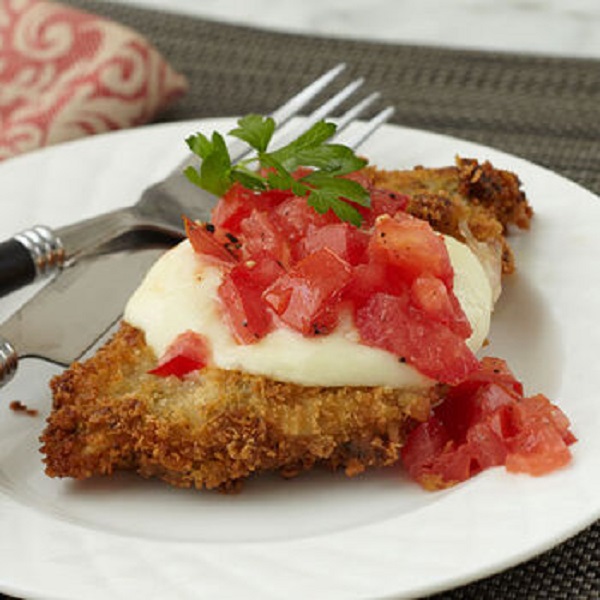 Skill

Medium

Total

Makes

4 – 6

Servings
Ingredients
1 1/2 pounds boneless, skinless chicken breasts, trimmed and pounded to 1/2-inch thickness

1 cup panko breadcrumbs

1/4 cup light olive oil, plus additional to drizzle over the tomatoes

4-6 ounces fresh mozzarella cheese, sliced

2 medium tomatoes, diced

Salt and pepper to taste
Directions
Preheat oven to 350 degrees F.

Brush Basil Pesto Aioli over both sides of each chicken breast.

Place panko breadcrumbs in a shallow bowl. Press each chicken breast in the crumbs to generously coat chicken on all sides. Allow to rest 10 minutes before sautéing.

Heat oil in a large sauté pan over medium-high heat. When oil is hot, add chicken in batches, making certain to not over crowd the pan. Sauté until golden brown and the chicken is no longer pink when a knife is inserted in the center of the meat.

Remove chicken to a baking tray lined with paper towel until all pieces are cooked. Remove paper towel. Top each chicken breast with a slice of fresh mozzarella and bake in oven until cheese is melted.

Meanwhile in a small bowl, add a little olive oil to the tomatoes just to coat and toss. Season with salt and pepper.

Serve chicken breast topped with chopped tomatoes.