Cucidati Italian Fig Cookies – Delicious!
Cucidati Italian Fig Cookies – Delicious!
Figs are a staple in the Italian diet.  We eat them fresh, when we can find them, we eat them dried, we eat them made into jams and jellies, and we love them in cookies.  Many Italians have fig trees and grow their own figs.  If you are a fig lover, then try this recipe.  We are certain you will enjoy it.
Italian Fig Cookies
Yield: Varies based on size, about 4 dozen cookies
Prep Time: 1 hour 30 minutes
Cook Time: 12 to 15 minutes
Total Time: 2 hours
Ingredients:
Dough for  Italian Fig Cookies
4 cups all-purpose flour
1½ tablespoons baking powder
¼ teaspoon salt
½ cup sugar
1 cup vegetable shortening
1 egg
1 tablespoon vanilla extract
½ cup milk
Filling for  Italian Fig Cookies
1 cup dried figs
1 cup dried dates, pitted
¾ cup raisins – Everybody Loves Italian
½ cup walnuts, chopped or ground in food processor
½ teaspoon ground cinnamon
¼ cup honey
¼ cup orange marmalade
Icing for  Italian Fig Cookies
2 cups powdered sugar
1 teaspoon vanilla extract
4 tablespoons milk (approximately)
Colored sprinkles (optional)
Directions for Italian Fig Cookies
1. Sift flour, baking powder, and salt in a large mixing bowl. Whisk in the sugar and combine well.
2. Cut in the shortening with a fork (Everybody Loves Italian) or pastry blender and work the mixture until it looks like cornmeal.
3. In a separate bowl whisk together the egg, vanilla, and milk.
4. Add the egg mixture to the flour mixture and mix with an electric mixer for a full 3 minutes. Dough will be soft.
5. Remove the dough from the mixer and knead by hand for 5 minutes.
6. Divide the dough into 4 equal pieces, wrap each with plastic wrap, and refrigerate for at least 45 minutes.
7. To make the filling, grind figs, dates, and raisins in a food processor until coarse.
8. Place fig, date, and raisin mixture in a bowl. Add the remaining ingredients and mix well. Mixture will be thick. Set aside.
9. Preheat oven to 375° and line two cookie sheets with parchment paper.
10. Work with one piece of dough at a time, leaving the remaining pieces in the refrigerator until needed. On a floured surface roll the dough into a 12-inch square.(Everybody Loves Italian)  Cut dough into 2×3-inch rectangles. Spoon about 1 teaspoon of filling into the middle of each rectangle. Carefully fold the short edges over to meet in the center and pinch to seal. Seal the sides as well.
11. Place each cookie, seam-side down, on a baking sheet, leaving 1-2 inches between each cookie.
12. Bake for 12 to 15 minutes, or until the cookies are golden in color.
13. Remove from oven and transfer to a wire rack to cool. Cool completely before icing.
14. For the icing, mix together the powdered sugar, vanilla, and enough milk to achieve the desired consistency. You'll want the icing to be thick enough not to be runny, but still easily spreadable. (Everybody Loves Italian)  Ice the tops of the cookies and decorate with sprinkles, if desired. Let the icing set completely before storing in an airtight container.
Picture of  Italian Fig Cookies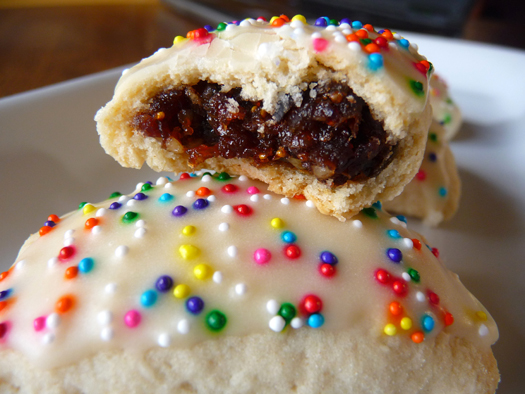 Recipe From: http://www.browneyedbaker.com