Delicious Caprese Style Portobellos – Only 5 Ingredients
Delicious Caprese Style Portobellos – Only 5 Ingredients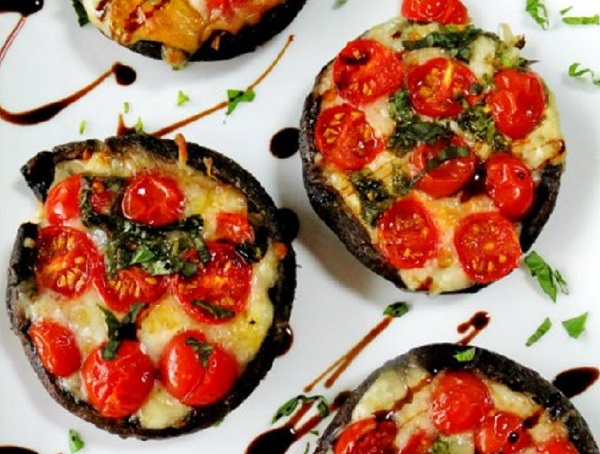 I love the large portobello mushroom caps because basically you can stuff them with almost anything you want resulting in a beautiful meal that you created in no time. You don't need a bunch of ingredients to make them and you feel totally satisfied after you've eaten them.
We often eat these as a main course during the week along with a nice big salad but if you want to make them as a delicious side dish next to grilled chops or a steak, I'm here to tell you they go perfectly together!
Ingredients:
large portobello mushroom caps, gills removed
cherry tomatoes, halved
shredded or fresh mozzarella ( although I've tried both I prefer the dryer shredded version for this because of the moisture factor seeping out)
fresh basil
olive oil
Instructions:
1 Heat oven to 400 degrees.
2 Line a baking sheet with foil for easy clean up.
3 Brush the caps and rims with olive oil on each mushroom.
4 Slice cherry or grape tomatoes in half, place in a bowl, drizzle with olive oil, add chopped basil, salt and pepper. Let it sit for a few minutes to let the flavors meld.
5 Place your cheese on the bottom of the mushroom cap, spoon on the tomato basil mixture and bake until cheese melts and mushrooms are cooked but not overcooked.