Dumplings stuffed with bacon
Dumplings stuffed with bacon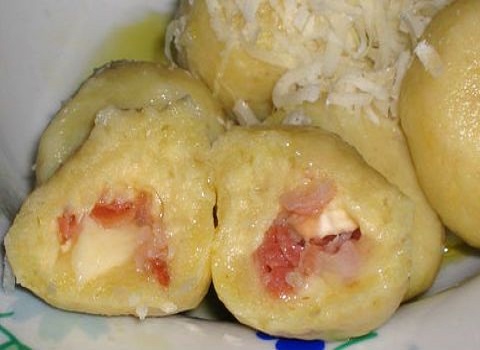 Ingredients For 6 people:
Potatoes 450 gr
2 eggs
flour
speck 250 gr
cheese cut into pieces (optional)
½ tablespoon cumin seeds
1 white onion
margarine 80 gr
¼ of cream
1 bunch of parsley
paprika powder
salt.
PREPARATION
In a pot of salted water boil the potatoes, then peel and mash them with the potato masher by dropping the puree directly into a large bowl. Add beated egg with salt and a little 'flour to obtain a homogeneous mixture.
Apart fry the bacon with the thinly sliced ​​onion for a few minutes, turn off the stove and add the cumin seeds, chopped parsley, salt and paprika.
Take back the potatoes and take, in the palm of your hand a small piece amount the size of a walnut, then flatten and place in the center of it a bit 'of stuffing with bacon (and cheese, optionally), then shut the dough on itself and keep it up until all ingredients are used.
Grease a baking sheet and recline inside the dumplings well side by side and pour over the remaining melted butter not hot, then brush the surface with beaten egg, cream and paprika.
Put in a preheated oven at 180 ° C for about 15 minutes and serve.