Easter Artichoke Pies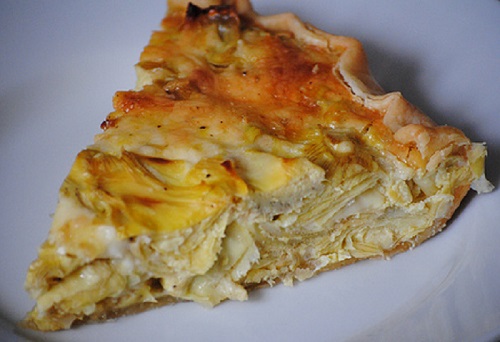 Ingredients:
For the Dough:
3 and 1/3 cups sifted flour
1/4 cup extra-virgin olive oil
1 egg
1/4 tsp salt
For the Filling:
8 fresh medium artichoke hearts, diced
1 small yellow onion, peeled and minced
1 and 1/2 cups well-drained ricotta cheese
1/3 cup freshly grated Parmigiano-Reggiano cheese
Extra-virgin olive oil
1/2 cup chopped fresh parsley
Salt and freshly ground black pepper
Directions:
Prepare the Dough:
Mix together flour, olive oil, egg, salt, and 3/4 cup cold water in a large bowl until dough just holds together (it should be fairly dry).
Divide dough into 2 balls, using two-thirds of dough for bottom crusts and one-third for top crusts.
Roll out dough for bottom crusts on a floured surface until very thin and almost transparent.
Cut out eight 6 and 1/2-inch circles.
Wrap bottom crusts in plastic and set aside.
Roll out dough for top crusts on floured surface and cut out eight 5-inch circles.
Wrap top crusts in plastic and set aside.
Prepare the Filling:
Heat 2 tbsp olive oil in a pan over medium heat.
Add onions and cook until slightly golden, about 6?8 minutes.
Remove from heat and allow to cool.
Mix together ricotta cheese, parsley, Parmigiano-Reggiano cheese, and sauteed onions in a large bowl.
Season to taste with salt and pepper.
Preheat oven to 375?F.
Assemble pies:
Place bottom crusts on a lightly oiled and floured baking sheet.
Spoon 1 and 1/2 tbsp filling on each bottom crust and spread evenly, leaving 1 and 1/2-inch of crust exposed around edge.
Divide artichokes between pies, arranging on top of filling, then spoon another 1 and 1/2 tbsp filling on top of each and add top crusts.
To form pies, fold edges of bottom crusts over edges of top crusts.
Pinch to seal, and then fold over again to create a slightly thicker edge.
Brush tops with a little olive oil.
Slit top of each pie 4 times in a crisscross pattern to allow steam to vent during baking.
Bake until slightly golden, about 25-30 minutes. Serves 8.