Easter Cookie Doll & Basket recipe "PUPE di PASQUA" – Grandma' Gina
"Easter Cookie Doll & Basket"
Pupe di Pasqua
Italian Grandma' Gina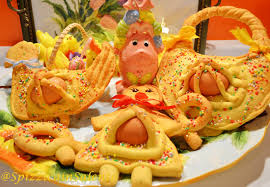 One of the Easter Traditions that may recall has to do with what is known as 
"Le Pupe di Pasqua."
In this segment we feature Italian Grandma' Gina and her version of the Easter Dolls and Basket or Pupa di Pasqua.
Also there is a written recipe by 
http://lifestylemadeinitaly.it/dolci-tipici-abruzzesi-la-pupa-e-il-cavallo/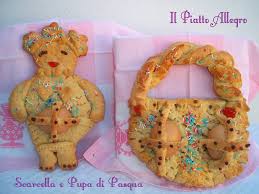 The pupa and the horse have an ancient tradition in the patisserie. In fact their history goes back as far as 800, when they were prepared for the official engagement party of the spouses.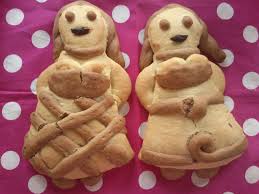 On that occasion when the couple presented themselves publicly to their families, they exchanged the horse that was given to the family of the girlfriend and the pupa to that of the boyfriend as a sign of consent to the union of the two future spouses.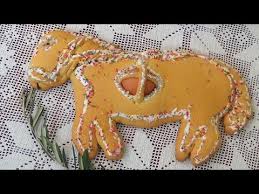 The pupa and the horse are also found in the Christian tradition of Easter as symbols of resurrection, a tradition that refers us to the last supper when Christ broke the bread and distributed it to the apostles. Breaking the pupa and the horse on Easter day, symbolizes the same gesture of love and solidarity made by Christ.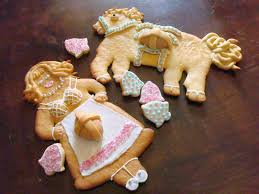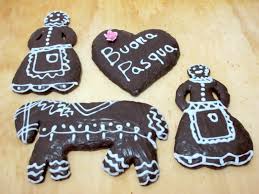 So from tradition, the grandmothers, on the evening of Holy Thursday, prepare horses to give away on Easter day to their male grandchildren and pupae to give to girls, both figures carry a hard-boiled egg wrapped in 2 crossed pasta strips, as a symbol of rebirth and of union.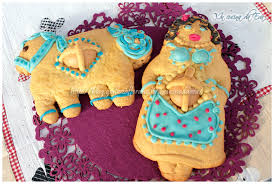 The pupa has the shape of a basin (recalling the copper vase with which the Abruzzese women went to collect water at the source) with arms resting on the waist, wide hips, and an abundant breast underlined by a strip of dough and the nipple highlighted. The facial features and decorations are very simple and primitive and, putting aside the sacredness of the ritual, the rich decorative details can become a game.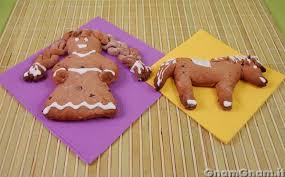 Ingredients
(for 1 pupa and 1 cavallo):
200 grams of sugar 
500/530 grams of flour (based on the consistency of the dough) 
3 eggs (+2 to be put as decoration) 
1/2 teaspoon baking powder for cakes 
3 tablespoons of extra virgin olive oil 
1 lemon (grated peel) 
For the decorations: chocolate chip 
colored sprinkles 
Procedure:
Beat the eggs with the sugar, add the sifted flour with the baking powder and knead the dough. 
Add the lemon zest and extra virgin olive oil and mix well. The consistency of the dough should be soft but should not stick to the hands.
At this point you can begin to work the pasta to create the shapes you want *: just grease your hands a little and give vent to your imagination. 
Once made and decorated, place the Cavallo or Pupa in a preheated oven at 180 ° for 20 minutes.
Below is Grandma' Gina's version of the
Easter Cookie Doll and Basket