EASY ITALIAN POTATO SALAD
EASY ITALIAN POTATO SALAD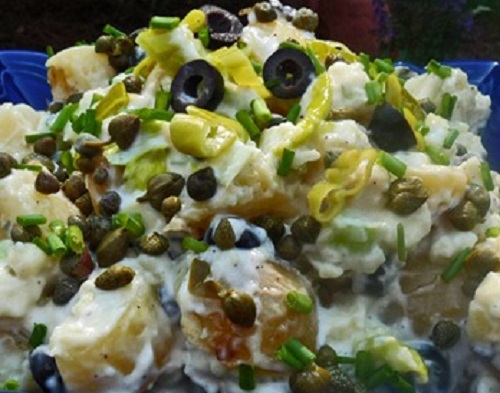 Serves: about 6
Prep: 30 minutes
Ingredients
5-6 Medium to Large Yukon Gold Potatoes – cooked and cut into large pieces – skins on or off: up to you
2 Large Cloves Fresh Garlic – chopped finely
2 Stalks Celery – chopped coarsely
2 Tbsp. Fresh Chopped Flat Leaf Italian Parsley
4 oz. Gorganzola or Blue Cheese – coarsely crumbled ( do not use pre-crumbled cheese – too dry)
4 Tbsp. Chopped Fresh Chives (you might want a few more to sprinkle on top)
1/2 c. Sliced/chopped Black Olives or Kalamata Olives or Cerignola Black Olives
1/4 c. Sliced, drained Peperoncini
Salt to taste & lots of fresh ground black pepper
2 Tbsp. Drained, rinsed, patted dry Capers for sprinkling over top
Dressing
1 c. Mayo (optional)
1/3 Extra Virgin Olive Oil
Juice of a fresh lemon
Salt and Pepper to Taste
Instructions:
You can make this a day ahead if you like – it just gets better!
Prepare potatoes, garlic, celery, & parsley as directed above.
Add the Blue Cheese or Gorganzola, chives, olives, peperoncini, salt and pepper.
Mix gently.
Mix dressing ingredients well and add to the potato mixture.
Gently toss and incorporate.
Top with capers and refrigerate.