Egg Tagliatelle with Mushrooms and Baby Kale
Egg Tagliatelle with Mushrooms and Baby Kale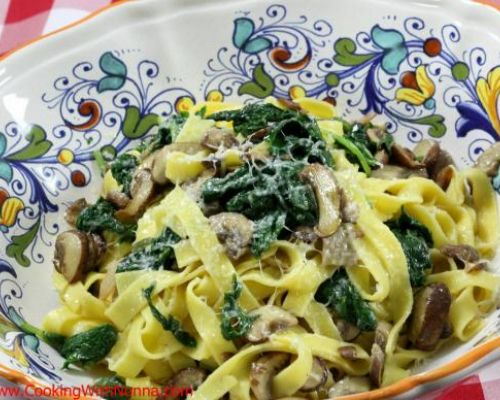 Egg Tagliatelle with Mushrooms and Baby Kale: This is one of my all time favorite pasta dishes because it's super easy and quick to throw together. I used a packaged fresh pasta which cooks quicker than dry pasta to save even more time!
If you're anything like me, getting your daily serving of pasta in isn't a big issue. Veggies on the other hand are a different story. I love the richness of these egg tagliatelle paired with my favorite vegetables, sauteed with garlic and oil. It's a quick easy way to get some nutritious satisfaction. I just love cooking baby Kale because it's packed with vitamin K and its more tender and quicker cooking than regular kale. It also usually comes pre-packaged so it's a breeze to throw together with easy to find portobello mushrooms. You can swipe either of these out for any mushrooms you love and whatever greens you find at your local market.
Ingredients
For
4

Person(s)
For the Pasta:
1

pound

fresh egg Tagliatelle (or any dry pasta you prefer)

10

ounces

package of Baby Portobello Mushrooms sliced

4

cups

baby kale

2

cloves garlic sliced

1/2

cup

grated Pecorino cheese

extra virgin olive oil to cover the bottom of the pan

salt & pepper to taste
Directions
Drop the pasta into salted boiling water and cook as directed until al dente. Fresh pasta will cook much faster so you can make the vegetables while the pasta is cooking. If you're using a dry pasta, allow for more time.

In a large saute pan add the olive oil and cook the garlic for about 30 seconds.

Add the slices mushrooms and saute about 2-3 minutes.

Add the baby kale and salt and pepper. Cook just until wilted.

Add the al dente pasta and saute for 1-2 minutes in the vegetables. If the pasta looks dry add about 1/2 cup of pasta cooking water.

Turn off the heat and add the cheese. Toss together and serve in warm bowls.