Eggplant Timbale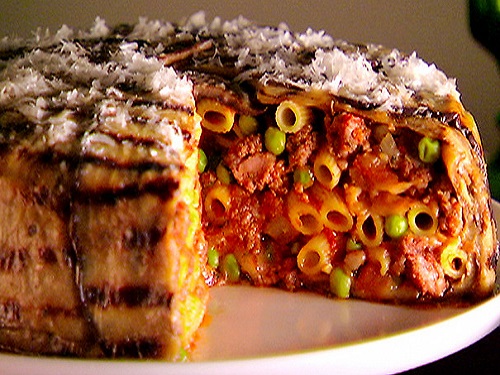 Ingredients
Yield: 4 TO 6 SERVINGS
2 medium eggplants, sliced lengthwise ¼ inch thick
⅓ cup plus 2 tablespoons olive oil
Salt and freshly ground black pepper
½ pound penne pasta
1 medium onion, diced
½ pound lean ground beef
½ pound Italian pork sausage
¼ cup Marsala wine
1 cup frozen peas, thawed
2 cups marinara sauce, jarred or homemade
1½ cups diced smoked mozzarella cheese (about 6 ounces)
1 cup freshly grated Pecorino Romano cheese
1 cup chopped fresh basil leaves
Instructions:
Place a grill pan over medium-high heat or preheat a gas or charcoal grill. Using a pastry brush, lightly brush the eggplant slices with ⅓ cup of the olive oil and sprinkle with salt and pepper. Grill the eggplant on both sides until tender and colored with grill marks, about 4 minutes per side. Set aside.
While the eggplant cooks, bring a large pot of salted water to a boil over high heat. Add the pasta and cook until tender but still firm to the bite, stirring occasionally, 8 to 10 minutes. Drain the pasta.
Meanwhile, warm the remaining 2 tablespoons of olive oil in a large skillet over medium-high heat. Add the onion and sauté until tender, about 3 minutes. Add the ground beef and sausage to the pan and brown the meat, breaking it into bite-size pieces with a wooden spoon, about 5 minutes. Pour off any excess fat. Add the Marsala and cook until the liquid has evaporated, about 3 minutes. Turn off the heat. Add the peas and marinara sauce and stir to combine. Add the mozzarella, ¾ cup of the Pecorino, the basil, and the cooked pasta. Season with salt and pepper.
Preheat the oven to 350°F. Line a 9-inch springform pan with the grilled eggplant, making sure that the slices overlap and hang over the edge of the pan; reserve a few slices. Fill the pan with the pasta mixture, pressing down to make sure the filling is evenly distributed. Fold the eggplant slices up over the top of the pasta and top with the reserved slices to enclose the timbale completely.
Bake the timbale until the filling is warmed through and the cheese has melted, about 30 minutes. Let the timbale cool for 10 minutes.
Invert the timbale onto a serving plate and remove the pan. Sprinkle with the remaining ¼ cup grated Pecorino, slice, and serve.