Eggs with Bell Peppers and 'Nduja
Eggs with Bell Peppers and 'Nduja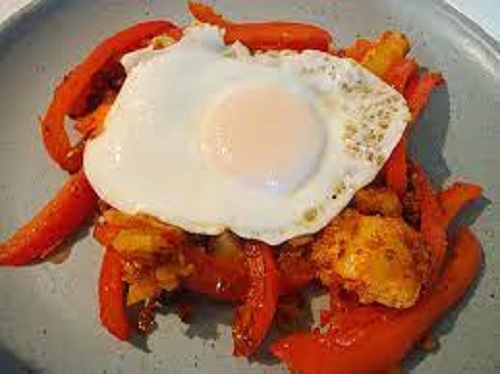 Serves 4
1/3 cup olive oil
1 large onion, minced
3 red bell peppers, seeded and sliced
salt and pepper
14 oz. cooked potatoes (unpeeled if waxy, peeled if floury), cut into chunks
3 oz 'nduja
2 Tbsp. extra virgin olive oil
4 large eggs
Heat 3 tablespoons of the regular olive oil in a large skillet or sauté pan (preferably one you can serve from) and add the onion, bell peppers and seasoning. Cook until the vegetables are soft—about 25 minutes—keeping an eye on them and stirring every so often.
Meanwhile, heat the remaining regular olive oil in another skillet and sauté the potatoes until they're golden and crusty all over. Season well.
Add the potatoes to the onion and bell peppers, toss together, and add the 'nduja. Stir to break up the 'nduja and mix it well with the vegetables.
Heat the extra virgin olive oil in the pan you used for the potatoes and fry the eggs until the yolks have just set. Put the eggs on top of the 'nduja mixture and serve.